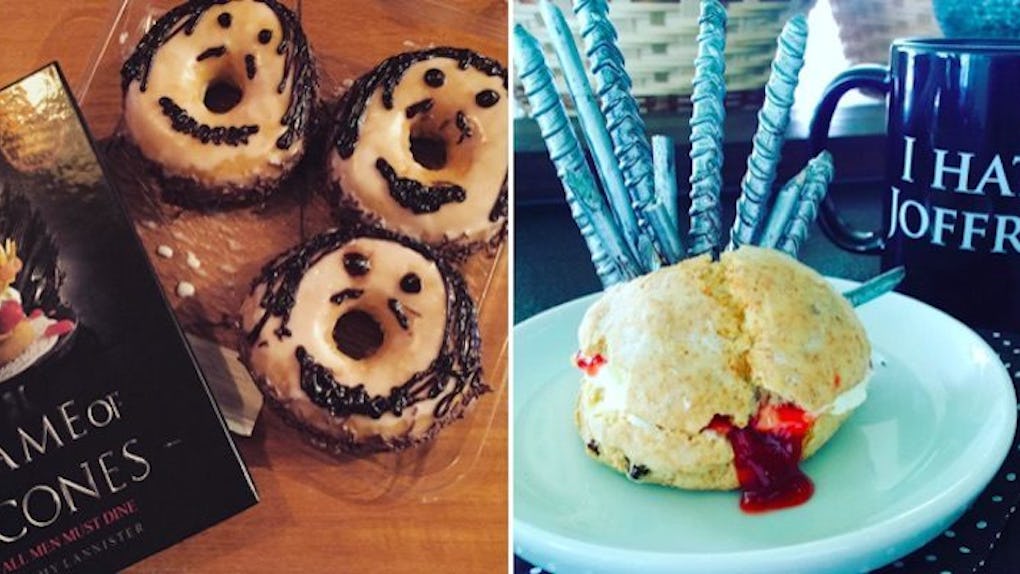 Instagram
This 'Game Of Thrones' Cookbook Will Help You Bring Westeros To The Kitchen
Like most foodies, eating happens to be one of my favorite hobbies. If there's one activity I love almost as much stuffing my face with snacks, it's watching "Game Of Thrones."
But you know what's even better than demolishing your favorite foods while you watch the latest events unfold in Westeros? Eating all sorts of tasty treats inspired by the show, of course!
Yep, if you're looking to whip up some Westeros-worthy eats, today is your lucky day. Someone just created a "GoT"-themed cookbook fittingly titled  "Game of Scones: All Men Must Dine," and it's basically the best thing ever.
Written by Jammy Lannister, this clever cookbook features a bunch of delicious recipes inspired by a variety of characters and places throughout the Seven Kingdoms. You can become the Khaleesi of the kitchen by making some unburnt Bran Muffins, a Brienne of Tart and some Tyrion's Shortbread. Or, you can become the mother of scones by whipping up a batch of the almighty Iron Scones.
Plus, if the food puns aren't enough to make you laugh, you'll be glad to know all of these recipes look just as amazing as they sound.
Check out the pictures below to see some of these awesome "Game Of Thrones"-inspired eats.
If you're looking for some drool-worthy snacks inspired by Westeros...
...you'll be glad to know we just came across a "Game Of Thrones" cookbook.
It's called "Game Of Scones: All Men Must Dine"...
...and it's filled with all sorts of epic sweets inspired by the Seven Kingdoms.
The recipes include everything from The Iron Scone...
And a sweet rendition of The Wall...
To Hot Pie's Wolfbread...
Bran Muffins...
Jon Snow Cronuts...
...and Three-Eyed Raven pies.
There's baked good from Braavos, like Jaqen's Chocolate Coins...
As well as confections from King's Landing, like handless Jammy Lannisters...
...and Tyrion-shaped shortbread.
Not to mention, a recipe for Littlefinger Cake...
Iron Islands Sea Salt and Carmel Scones...
Dragon Eggs desserts...
Tasty Weirwood Trees...
...and some terrifying White Walker treats.
You can feast on a giant scone fittingly called "The Mountain"...
...with a side of Oberyn's Smashing Surprise.
Or, you can relive the horror of season three with a Red Wedding Velvet Cake.
Dinner is coming.
Citations: This 'Game of Thrones' cookbook is the perfect gift for diehard fans (Business Insider)