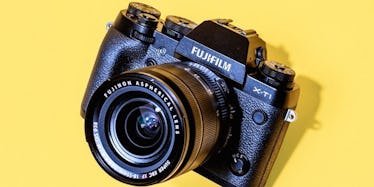 This Expensive New Camera Can Legitimately See Through Your Clothes
Let's face it: You can never have enough tech gadgets.
There will always be a new tablet, smartphone, laptop, smartwatch -- the list goes on. That's precisely why you should keep yourself up to date with Fujifilm's latest offering.
It's called the FUJIFILM X-T1 IR, and you're probably wondering what the difference is between this and the X-T1.
Perhaps it's the power to see through people's clothes using the mirrorless X-T1 IR's ability to locate infrared light.
According to WIRED, this camera has the ability to capture light at wavelengths that are up to 1,000 nm.
That's slightly over the wavelength needed to identify visible light (up to 700 nm). Infrared, on the other hand, is completely invisible to the human eye.
Now, this doesn't mean any person you take a photo of will appear naked on your camera.
The clothes have to be thin, and besides, the camera isn't being marketed toward a pervert with a plan. The X-T1 IR, which will reportedly retail around $1,700, is being marketed to crime scene investigators, medical practitioners and scientists.
Aside from partially being able to see through clothing, the camera also features WiFi connectivity, a 16-megapixel APS-C sensor, speedy autofocus and a weather-proof body.
As of right now, Fujifilm has yet to state a shipping date on its latest camera. Keep up with the latest on Twitter.
Citations: Sooooo Fujifilms New Camera Sees Through Some Clothes (WIRED)