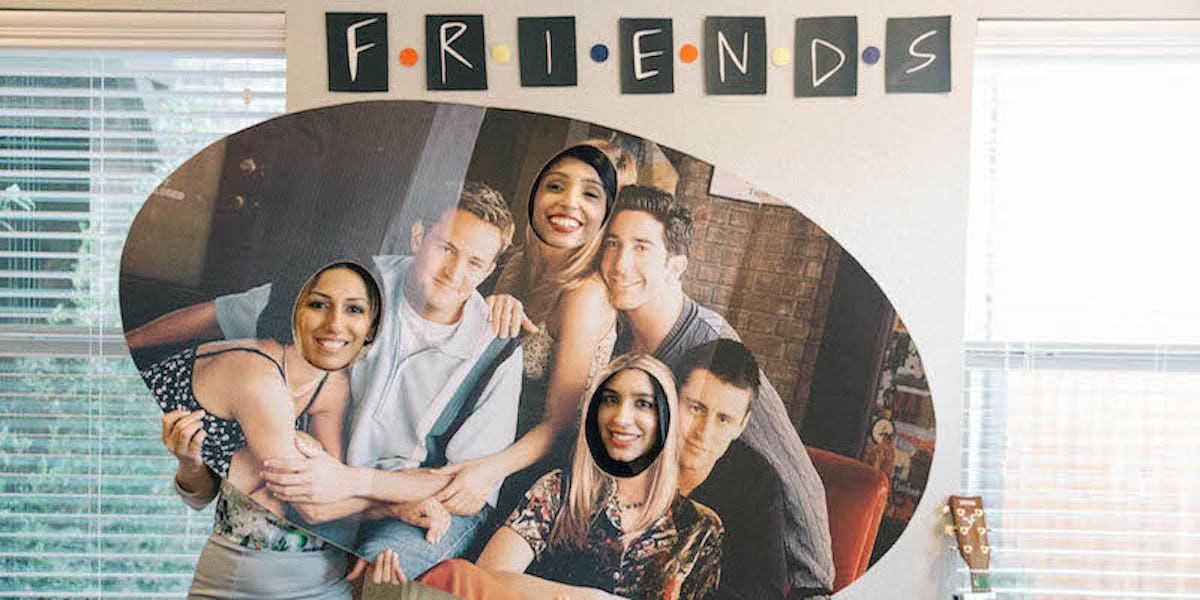 This Incredible Bridal Shower Looks Like A Scene Straight Out Of 'Friends'
Shamain K. Photography
When you think of all the awesome parties you've been to over the years, bridal showers aren't normally the first things that come to mind.
If you're not the lucky one getting married, these things can be pretty damn boring.
Because let's face it, there's nothing particularly memorable about spending the afternoon eating petit fours and watching someone open presents for three hours.
However, Sana Seeham Khan recently had a bridal shower that was definitely one for the books.
Apparently, this bride-to-be is a big fan of the television show "Friends" and regularly makes time to watch the show with her long-distance fiancé, Taufik Chhotani.
In fact, Khan told BuzzFeed,
We're in a long-distance relationship and we see each other maybe once a month, so we try to do different things to make us feel like a 'normal' couple. The FaceTime 'Friends' dates are one of them. He reminds me of Ross. Maybe it's the nerdy jokes.
So Khan's sister Shamain and her BFF Michelle Naik decided to throw her an epic "Friends"-themed bridal shower in honor of her upcoming wedding.
From the "Friends" banner and the Central Perk sign to the sitcom-inspired snacks and subtle show references incorporated into the party favors and decor, it's not hard to see Khan's besties really outdid themselves with this awesome themed bridal shower.
No, seriously, this party makes you feel like you're actually one of the main characters in the show.
Take a look at the pictures below to see this incredible shower.
Sana Seeham Khan and her fiancé, Taufik Chhotani, are big "Friends" fans.
In fact, these two love the show so much, they regularly have digital dates where they watch their favorite episodes together on FaceTime.
So when it came time to plan Khan's bridal shower, her sister and best friend decided to think outside of the box...
...and threw her an incredible "Friends"-themed bridal bash.
The entire party looked like a scene straight out this classic sitcom.
From the Central Perk sign...
To Phoebe's guitar...
...it's not hard to see the "Friends" party decor was on point.
Plus, there were also all sorts of sitcom-inspired snacks...
Like Joey's sandwiches...
Monica's candy...
...and the cookies from Phoebe's grandma.
If that's not enough to give you some serious "Friends" FOMO, they also made a variety of fun photo props...
Scattered love related quotes from the show around the house...
...and even made a bunch of adorable mugs for all of the guests to remember this special day.
Seriously, Khan might just have the best BFFs ever!
Citations: This "Friends"-Themed Bridal Shower Will Make You Wanna Get Married Right Now (BuzzFeed)