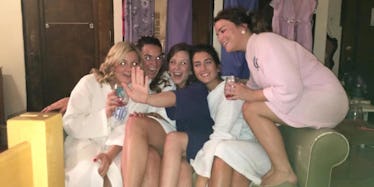 These Friends Were A 90s Bridal Party For Halloween, And It Was Amazing (Photos)
We've all seen our shares of creative costumes for Halloween.
But Claire Condon, Kerry Wanner, Molly Wallach, Bridget Hogan and Claire Miller may have just taken the win for group costumes.
Instead of being something basic like a crew of superheroes or Disney Princesses, these St. Mary's College students decided to celebrate the spooky occasion by dressing up as an epic 90s bridal party.
From the old-school dresses and butterfly clips to the ugly vintage shoes, it's not hard to see these BFFs nailed every last detail of their 90s-inspired ensembles.
Take a look at the pictures below to see their hilarious Halloween costumes.
These college students just took Halloween to the next level with their awesome 90s bridal party costumes.
The friends kicked off the night by throwing on their robes and prepping themselves with what looks like the ultimate bridal pampering...
...while also pre-gaming for the big event with some bubbly served in monogrammed glasses, of course!
Bridget Hogan was the mastermind behind this costume idea and called dibs on being the bride.
She played the role perfectly in her outdated wedding gown.
The other women served as the bridal party and wore a variety of purple dresses that truly captured the essence of awful 90s-era fashion.
Seriously, even their shoes were on point.
Claire Condon told BuzzFeed, "We had a flower girl, the 'best-friend-from-growing-up bridesmaid,' the 'friend-from-college bridesmaid' and the 'cousin-who-is-obliged-to-be-in-the-wedding bridesmaid.'"
Once they were all dressed in their 90s bests, the friends headed to a nearby chapel...
...where they exchanged BFF vows and snapped all sorts of hilarious bridal party pics.
No wedding would be complete without a post-ceremony celebration, so afterward, they headed to the bar to show off their creative costumes.
I think it's safe to say this badass bridal party gives us all some serious Halloween #SquadGoals.
Citations: College Students Redefine Halloween #Goals With Epic '90s Bridal Party Costumes (Cosmopolitan), A Group Of College Friends Dressed Up As 90s Bridal Party For Halloween And Had A Fake Wedding (BuzzFeed)