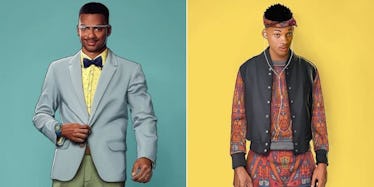 Here Is How 'Fresh Prince' Cast Would Look If The Show Took Place Now (Photos)
Instagram
As kids, "The Fresh Prince of Bel-Air" was a television staple for most of us.
Though the show ended its run years ago, it's not hard to remember the signature style of each cast member.
But, did you ever wonder what the cast would look like if the show took place in today's world?
In honor of the sitcom's 25th anniversary, artist Leland Foster teamed up with the online fashion retailer Lyst to give your beloved Banks family a modern-day makeover.
For the collaboration, Foster created a series of digital paintings, featuring the whole crew reimagined in contemporary ensembles that look simply amazing. From Will's streetwear and Hilary's chic-couture suits to Carlton's wearable tech, it's not hard to see each character's outfit is extremely on point.
Foster reportedly said,
I love to research vibrant characters and come up with a thought-provoking new spin on their signature style. 'The Fresh Prince of Bel-Air' was so stylish, and so of-its-time as a classic '90s show. The challenge was to make the Banks family relevant and [recognizable], while keeping all the energy of these six very different personalities.
Take a look at the pictures below to see what the cast would look like today.
Will
Ashley
Hilary
Carlton
Uncle Phil
Geoffrey
Citations: Here's what The Fresh Prince of Bel-Air would look like if it was set in 2015 (Metro)