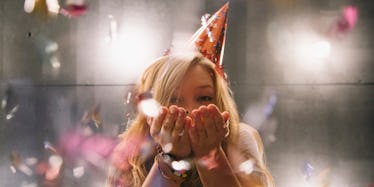 Here Are All The Places That Will Give You Free Stuff On Your Birthday
There are few things in life that can compare the pure bliss of getting something for free -- especially when there's minimal effort involved in the whole process.
Yep, if you're a big fan of scoring some awesome deals, you might want to stop what you are doing and pay attention. There's a good chance you've been missing out on tons of freebies over the years without the slightest clue.
That's right. It turns out there are lots of places that will reward you for simply being alive and give you all sorts of special gifts on your birthday.
From complimentary makeup kits and free meals to Redbox movie rentals, Victoria's Secret gift cards and Dave and Buster's games on the house, there are all sorts of things you can snag on your special day free of charge.
However, there's one little catch to most of these birthday freebies.
In order to receive your present, you have to sign up for their email list or loyalty program. But hey, doing that takes like two seconds and if you ask me, giving out your email address is worth getting lots of free shit on your birthday.
Take a look at the pictures below to see all the places that will make your birthday even better by giving you a free gift.
Starbucks: Free birthday drink.
Sephora: Free makeup gift.
Auntie Anne's: Free pretzel.
Baskin-Robbins: Free ice cream.
Chili's: Complimentary chips and guac.
Dairy Queen: Free Blizzard.
Dunkin' Donuts: Free drink.
Hooters: Free wings.
Smashbox: Free makeup gift.
Victoria's Secret: Gift card worth $10.
Subway: Free 6-inch sub and drink.
Sbarro: Free pizza.
Redbox: Free movie rental.
Pinkberry: Free small yogurt.
Dave & Busters: $10-worth of game play.
AMF Bowling: Free game.
IHOP: Free stack of pancakes.