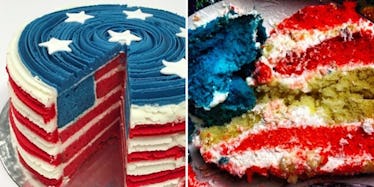 These Fourth Of July Food Fails Will Make You Wish You Weren't American
The Fourth of July is right around the corner. So it's time to prepare yourself for a weekend full of fireworks, day drinking and stuffing your face with all sorts of festive foods, of course!
If you're planning to whip up some red, white and blue eats for the occasion, Pinterest is the perfect place to find a little patriotic recipe inspo. Right? No.
I can tell you from personal experience that cooking is actually a lot harder than the internet makes it appear. So nine times out of 10, that seemingly simple fruity flag cake that you tried to recreate from Pinterest ends up looking like a frosting-clad "screw you" to the American flag.
But don't worry. If your cooking skills aren't on par with Martha Stewart, you're not alone. It turns out that there are tons of people out there who have single-handedly destroyed the Independence Day dessert table with their epic food fails.
So, in order to make you feel better about your own Pinterest-inspired pity plates, we set out to find a bunch of people who should probably be banned from cooking on this food-filled holiday.
Check out the pictures below for a closer look at these hilarious red, white and blue Pinterest food fails.
These sweet sandal cookies make you proud to be an American...
...But let's be honest, these IRL cookies should be ashamed of themselves.
 These festive Fourth of July cupcakes are perfectly patriotic...
...But these ones just make me want to move to Canada.
This wonderful watermelon cake inspires me to sing "The Star-Spangled Banner"...
...But this one just makes me feel kinda queasy.
This person's icing game is on fleek...
 ...But seriously, what happened here???
 This pretty American pie looks delicious...
...But this edible insult is straight up un-American.
 This red, white and blue strawberry is a pleasure to look at...
...While this one is just depressing.
 These star-studded fruit kebabs are like fireworks on a plate...
...But these ones don't even come close.
 This delicious display of democracy would make our forefathers proud...
...But this one just screams mediocrity.
These macarons want to "Make America Great Again"...
...But who would vote for these sorry suckers?
These perfect patriotic cake pops would make George Washington's mouth water...
...But these would make Abe Lincoln cry.
This fabulous firecracker cake is why Lady Liberty welcomed people into this country with open arms...
...But if she'd seen this, maybe she would have thought twice.
Uncle Sam wants YOU to make this watermelon jello pie...
...But he didn't mean this.
 This artful arrangement of red, white and blue is an American dream...
...But this one is kinda strugglebus.
This fail belongs in the Hollywood Walk of Shame.
And these Rice Krispie Treats go against the cooking constitution.
These unpatriotic pastries should just be vetoed.
It's a free country, but sometimes it's best to stay out of the kitchen.
'Merica.