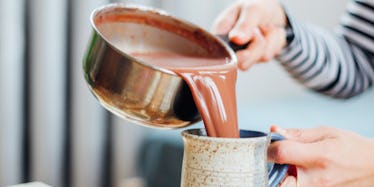 A Wine Hot Cocoa Recipe Exists, So Your Drunk Blanket Will Be Warmer Than Ever
There are few things in life that can compare to the almighty power combo of wine, chocolate and sweatpants.
I think most of my fellow ladies would agree this coveted combination is the trifecta of a perfect Friday night at home while the rest of the human race hits up the bar scene.
But we just found a way to make your beloved wine so damn delicious, you won't even feel bad about choosing your couch over a night out with your crew.
Allow me to introduce you to my newest, cold-weather approved wine obsession: red wine hot chocolate.
Some genius decided to take the two greatest things in the universe — wine and chocolate— and turn them into the coziest boozy beverage of all time.
If you're wondering what wine hot chocolate tastes like, the answer is simple: It tastes like heaven. It's like taking a magical cloud of happiness and cramming it into a ceramic mug.
People have been posting their own beautiful love potions of red wine hot chocolate online, and all of the renditions look insanely tasty.
If you're looking ditch the Swiss Miss for some hot chocolate that gets you turnt...
... you'll be glad to know this decadent drink is actually pretty easy to make.
Just grab a small pot, mix together 3 teaspoons of unsweetened cocoa powder, 4 teaspoons of sugar and 1/8 teaspoon of salt.
Then, stir in 2 to 3 tablespoons of milk, followed by 1/4 cup of red wine and bring the mixture to a boil as you occasionally stir the pot.
Once your cocoa is nice and hot, simply pour it into a mug and you're good to go!
If you're down to experiment, you can try some variations on this recipe, like swapping out the cocoa powder for melted chocolate chips to make the flavor of your wine cocoa even richer...
...or using half-and-half instead of milk to give your boozy beverage a thicker consistency.
Add a little flair to your mug by topping it with a sprinkle of cinnamon, a swirl of whipped cream or a mountain of fluffy marshmallows.
The wine-infused hot chocolate possibilities are pretty much endless. Cheers!
Citations: How To Make Red Wine Hot Chocolate (PureWow)