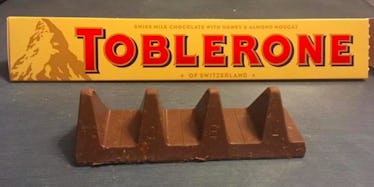 Toblerone Decided To Change Its Famous Shape And Everyone's Super Pissed
Twitter
Seriously, Toblerone?!?! You're pulling this horse shit on Election Day of all days?!?!
Toblerones are great. It's chocolate, it's a pyramid, it has crispy things inside, and it's the only chocolate that requires you to fake a British accent while you eat it.
It's such a beautiful staple of the candy world that it is mostly available only in duty-free airport shops and in a snack drawer across from the Crown Jewels.
For some reason, the makers of this sacred candy decided that they had too good of a thing going and kind of ruined the bar's integrity.
I present to you Toblerone 2.0.
YUP! THIS IS REAL CRAPPY, I KNOW!
God is dead.
Keep in mind, they did this on TUESDAY AKA ELECTION DAY.
The entire goddamn free world is worrying about whether or not the economy is going to tank because the key to the stock market was given to a man who thinks Gary Busey is a business genius (literally watch any "Celebrity Apprentice" episode with Gary Busey on it. They're all great).
Yet, Toblerone decided to ruin themselves for us and announce it ON THE SAME DAY?!?!!?
What the balls am I going to comfort myself with if Trump wins? Your thin-ass chocolate flakes? Smooch my gooch.
Compare that to this OG slab o' 'lerone.
The internet is losing its complete and utter mind over this crime against humanity.
Toblerone, why? — Oliver Phelps (@OliverPhelps) November 8, 2016
Some though have turned these chocolate-covered dumpy lemons into chocolate lemonade (ew).
Toblerone is fully aware that they've turned their followers into extremist chocolate rights activists.
They've issued a statement on their Facebook page that they're hoping may put some people's minds at ease.
OH! COOL! SO NOW YOU'RE JUST ADMITTING THIS WAS A CHOCOLATY, MONEY-BASED DECISION!
At least lie to us, Toblerone. We want to think the people who own the machinery behind our favorite candy are Willy Wonkas and not Bernie Madoffs.
Citations: As If We Didnt Have Enough to Worry About Today Toblerone Went and Messed With Its Candy (Grubstreet)