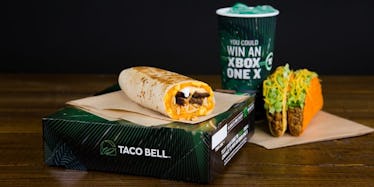 Taco Bell's Upcoming Steak Quesarito Box Will Give You A Chance To Win Big
Taco Bell
Call your Lyft driver, because Taco Bell's new $5 Steak Quesarito Box comes with something super extra (and, no, I'm not talking about heaps of hot sauce packets). For every Steak Quesarito Box you buy from Aug. 31 to Oct. 4, you'll have a chance to win a brand new Xbox One X, which officially launches Nov. 7. Cue the cheers.
In a Tuesday, Aug. 1, press release, the fast food chain's chief marketing officer, Marisa Thalberg, talked about the new Taco Bell promotion. She said,
It's only fitting that the two brands that do 'boxes' best and have some of the greatest fans in the world have joined forces to box up the ultimate food and gaming offer for them.
This isn't the first time Taco Bell has teamed up with the popular gaming system for a promotion. They did the same for the original Xbox release in 2001.
What do you get in the Steak Quesarito Box?
Each box comes with a meal made in fast food heaven: a Steak Quesarito (duh), a Doritos Locos Taco, a Crunchy Taco, a medium drink, and a code to text to find out if you're a winner.
Also, let me just repeat that it only costs $5.
According to Taco Bell, an Xbox One X will be given away approximately every 10 minutes during the promotion. Those sound like some pretty good odds, if you ask me.
Be sure to set a reminder now so that when the 31st comes around, you'll be ready to eat Taco Bell for... about a month or so. You'll be sick of the Steak Quesarito by the end of it, but $5 a day just might increase your chance of winning the coveted new system — oh, and a Forza Motorsport 7, and a 3-month Xbox Game Pass subscription.
May the odds be in your game- and taco-loving favor.