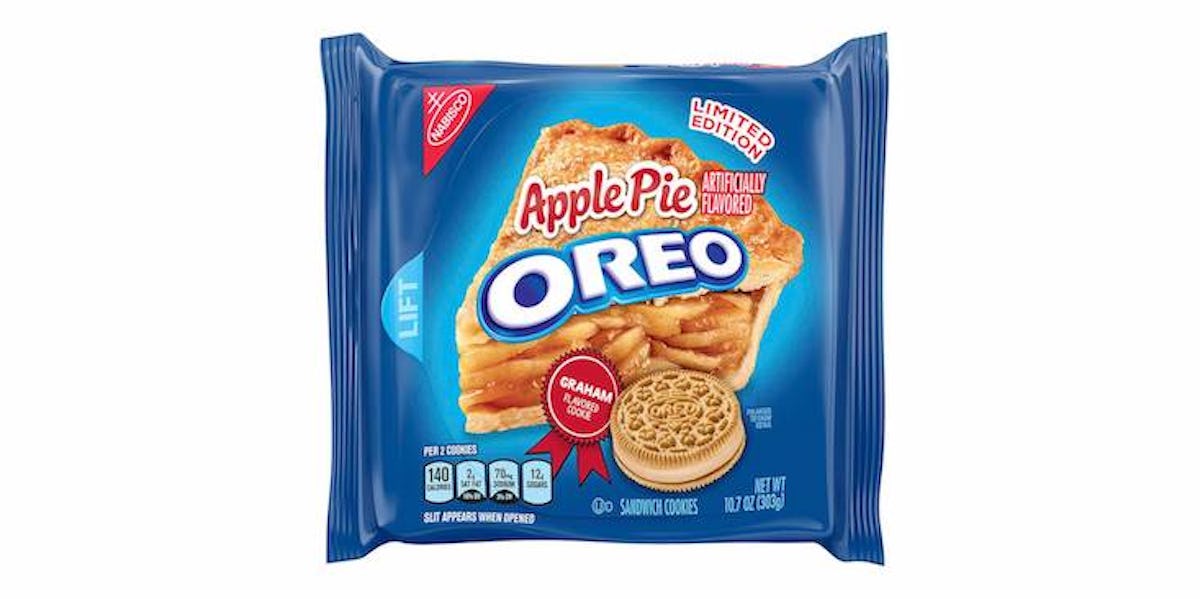 Sweet Apple Pie Oreos Are Coming And They'll Be Your Favorite Autumn Snack
Target
Oreos have had one hell of a summer. To end things on a sweet note, Apple Pie Oreos have been spotted on Target's website and fans of milk's favorite cookie can't contain their joy. Apple Pie Oreos were first discovered by Instagram account @CandyHunting — an awesome IG page dedicated to discovering new sweets.
But I have some bad news: It turns out the Apple Pie Oreos are not being sold just yet; however, the fact that they're on the site is good news. Once these delicious Oreos are in stock, you can not only find them online, you can also search which location has them in store.
The limited-edition Oreos are made with graham cracker-flavored cookies (instead of the traditional chocolate) and an apple pie flavored filling. OK, that sounds delectable! The best part is a pack of Apple Pie Oreos will only set you back $2.99, which is quite reasonable for a snack that transitions perfectly into the fall months.
Nabisco first announced Apple Pie Oreos back in November 2016 and they are supposed to be released on Labor Day 2017 (Sept. 4). No word on whether or not Nabisco will be sticking to that exact day, but it doesn't change the fact that sweet tooths all around the nation are excited.
Unsurprisingly, people are thrilled by the new addition:
"Apple pie Oreos? I'm heading to Wal-Mart."
"Apple Pie Oreos Are Here."
"*cough* apple pie Oreos end of August *cough*"
While we wait for Apple Pie Oreos to have their official release, we can indulge ourselves into Edible Oreo Cookie Dough — which is made by The Cookie Dough Cafe and ships nationwide — or you can pick up some PB&J Oreos — available at Krogers — in the meantime.
There are so many tasty ways to satisfy your sweet tooth if you're an Oreo fan. I'm keeping my eyes peeled for the next new release.