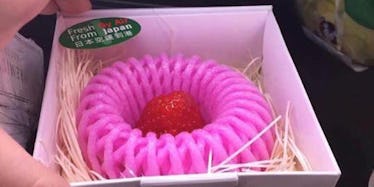 Store Selling A Single Strawberry For $22 Has Internet Losing Faith In Humanity
Facebook
We once showed you a bunch of ridiculously expensive items you can actually find at Whole Foods.
If you thought burning a hole in your wallet with an $18 cartons of hemp milk or some $34 emu eggs was pretty bad, you might want to brace yourself.
It turns out Whole Foods isn't the only grocery store committing a crime against humanity with its outrageous prices.
CitySuper, an upscale supermarket in Hong Kong, is selling a single strawberry for $22, and people are outraged over the price of this bougie-ass berry.
Apparently, the grocery store feels there's nothing wrong with charging a small fortune for a single berry in a box, since this particular strawberry is by no means your average piece of produce.
It's a special strawberry that hails from Japan and is packaged in a fancy box, complete with a HKD $168 price tag — $21.60 — of course.
Several shoppers shared images of the bougie berry on social media over the weekend, and now the store is receiving a lot of backlash for its overpriced strawberries.
CitySuper says its supplier purposely packaged the single berries in a box because the strawberries were intended to be sold as Valentine's Day gifts.
I don't know about you, but I would be pretty disappointed if my boyfriend handed me a little box on Valentine's Day and I only found an overpriced strawberry inside.
Plus, if you're going to shell out $22 for a strawberry, it should be covered in edible gold — or at least dipped in some damn chocolate for Heaven's sake.
A CitySuper spokesperson told the Hong Kong Free Press, "The strawberry gift box was imported from Japan with its original packaging given its premium grade, rarity and fragility for quality protection."
The supermarket claimed the berry's exorbitant price was caused by a combination of factors, including the strawberry's cost, market conditions and exclusivity.
The strawberry was air-flown from Nara, Japan, and it is considered to be a "rare" piece of produce with "good acidity and rich sweetness."
Some of CitySuper's biggest critics include a group of environmentalists who have been petitioning for Hong Kong supermarkets to use less plastic packaging.
In addition to the petition, one environmentalist, Gary Stokes, has started a campaign called #trashthecheckout.
The campaign urges people to remove the packaging from produce and leave it at checkout counters in order to send supermarkets a message about reducing plastic packaging and sourcing products responsibly.
After seeing the "heavily-packaged strawberry," Stokes told the South China Morning Post the fruit looked like "something out of Mad Max — like it's the last strawberry on Earth."
Something tells me this extravagant strawberry isn't going to be the store's best seller.
Citations: This single $22 strawberry in a box is making people mad (Mashable)