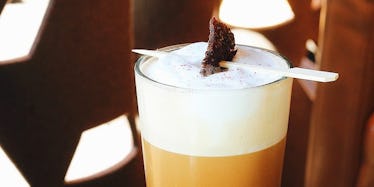 Starbucks' New Coffee Is Garnished With Gourmet Beef Jerky And We're Not Kidding
Starbucks
Starbucks is keeping summer alive all year long thanks to its new fruity frappuccinos and refreshing teas. Though selections like the Piña Colada Tea Infusion and the beloved Violet Drink are welcomed on the permanent menu, sometimes tropical flavors just don't cut it. For those looking to find a new usual, behold: Starbucks' Pepper Nitro with a Jerky Twist, the latest offering to hit stores and give that "summer in a cup" mantra a run for its money.
If you're looking for a change from your typical morning berry blend, the Pepper Nitro offers a bold, powerful flavor with a twist thanks to its herbal spices, orange acidity, and of course, gourmet beef jerky. It's not often creamy coffee is topped off with an all natural beef skewer, but Starbucks is here to bring two fantastic worlds together. And you thought a croissant was exciting!
As exciting an unexpected as this drink might be, there is a powerful story behind the beverage. Starbucks teamed up with farmers in the Congo, who are looking to make coffee their livelihood after years of conflict and devastation. The coffee company invested in the proper infrastructure to ensure that the coffee was grown in the most ethical and sustainable way possible. In a statement, Starbucks added that the "farmers and families behind this coffee are as special as the flavor it offers."
Not only are you being treated to an unusual, one-of-a-kind flavor, but the Pepper Nitro also helps a community trying to improve its livelihood. It's totally a win-win, so what are you waiting for?
The new bev is slow steeped cold brew on draft through a nitro tap, so be warned before ordering — it's exclusive to the Seattle Reserve Roastery. The drink is combined with malted pepper syrup, cracked pink peppercorn, topped with a cold honey foam, and naturally, finished off with an all natural, gourmet beef jerky using grass fed beef.
Raegan Powell from Starbucks' R&D team helped create the new beverage. According to a release by Starbucks, she described the taste and said,
With the first sip, you get a hint of the honey cold foam and the aroma of the pink ground peppercorn. The real surprise is the salty savoriness of the jerky garnish, an exciting complement to the smooth and sweet finish of the nitro cold brew experience.
It's new, unusual, and probably going to be your new favorite order. Enjoy, coffee connoisseurs. It'll only be available for a limited time!