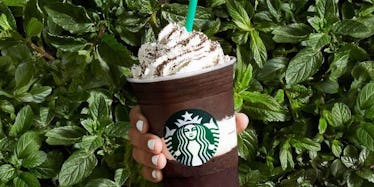 Starbucks Is Releasing A Minty New Frappuccino, So Forget About The Unicorns
Starbucks
It might not be the holiday season, but Starbucks is certainly in a generous mood... and we're reaping all the delicious benefits.
The coffee mecca has gifted us with more color than even Lisa Frank could fathom, thanks to its homage to mythical creatures.
First, we were captivated by the Unicorn Frappuccino and all its glory...
But then, supplies began running low for the Unicorn Frapp, so Starbucks had to resort to another fictional animal for inspo...
Behold the Draggon Frapp!
Then, the unicorns got jealous and decided to once again steal the show, but this time, with iced tea...
... and finally, we were warned that there's no end in sight to the tasty craze, since Starbucks will be rolling out new frapps.
Former Starbucks CEO Howard Schultz, who stepped down earlier this year, said in a statement, "Just stay tuned because we have a lot more coming."
Though our latest menu item might not look like a coloring book, what it lacks in neon it'll surely make up for in taste.
"We started by thinking of the heydays of summer," Jennica Robinson, a member of Starbucks' beverage development team said in a statement. "We were inspired by thoughts of dark starry nights, looking up at the sky with a cool summer breeze."
Ah, can you just picture it now?
I was thinking more along the lines of "Hey, I ran out of Girl Scout Thin Mints, let me give this a whirl," but you know, what Robinson said works, too.
Beverage development manager Ryan Coombes said,
Mint is instantly cooling. It contrasts with the dark cocoa and whipped cream for a balanced, refreshing beverage.
But, more importantly, he added,
People are gravitating toward vibrant colors. Jet black is filling the void in unexpected places.
You know what that means! Tasty treats and Insta likes — talk about a win-win.
The new treat is available beginning today.
Citations: Cool Down on Summer Nights with Starbucks New Midnight Mint Mocha Frappuccino (Starbucks)