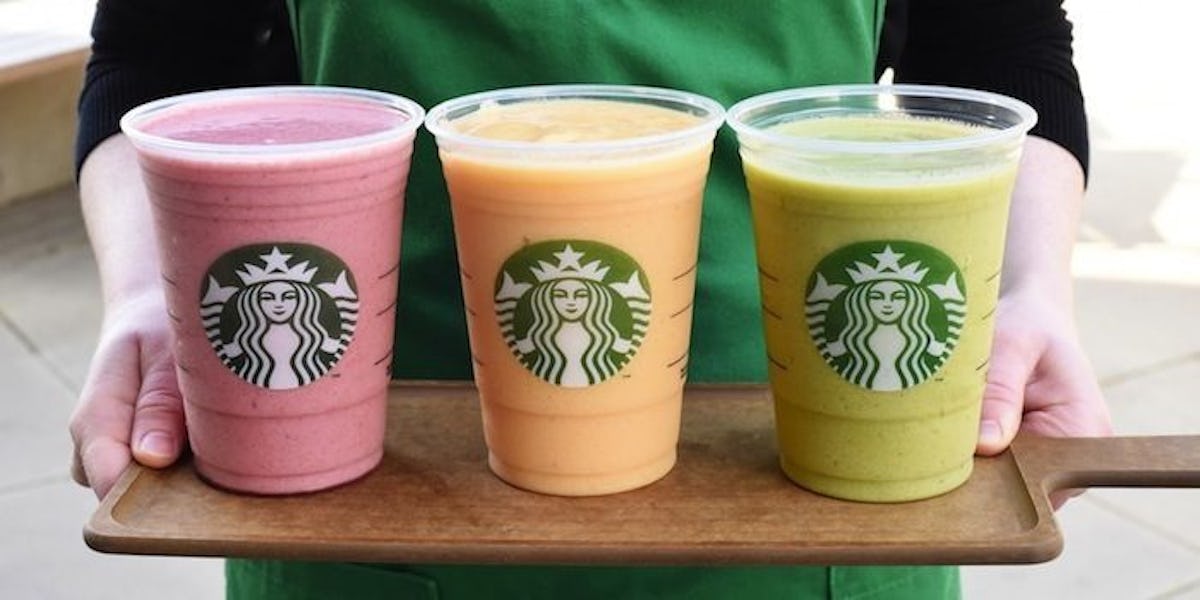 OMFG: Starbucks Is Debuting Kale Smoothies And Other Healthy Options
Starbucks
Starbucks, no longer content with solely catering to caffeine addicts, is making a leap forward into the kale smoothie business.
Starting March 31, some of the company's cafes will be able to serve you an indulgent Frappuccino topped with whipped cream and a low-cal, post-workout drink.
The Huffington Post reports the coffee chain, hoping to get a piece of the health food market, struck a deal with Dannon to make 16-ounce Evolution Fresh smoothies in Sweet Greens, Mango Carrot and Strawberry flavors.
Those who purchase the nearly $6 drinks, which contain cold-pressed juice, yogurt, nutmeg and ice, will even have the option to add extras, like kale and greek yogurt.
And that's not the only way Starbucks plans to watch its weight.
It also released two savory wraps, Thai-Style Peanut Chicken and Edamame Hummus, which are under 500 calories each.
If you need a break during a busy day, Starbucks hopes you'll pick up a snack alongside your afternoon coffee.
These days, Starbucks is more bistro than corner coffee shop.
For a lifestyle on the go, however, Starbucks provides a one-stop shop for healthy food and a dose of caffeine.
If you're looking to get your hands on the new kale smoothies, you'll have to be patient -- unless you're in the Northwest.
According to Reuters, the first people to try the drinks will be residents of Alaska, Northern California, Washington, Oregon and Idaho, as well as customers of some Starbucks cafes within grocery stores.
Happy slurping, health nuts!
Citations: Starbucks To Release New Dannon Smoothies, Hummus And Chicken Wraps (Huffington Post)