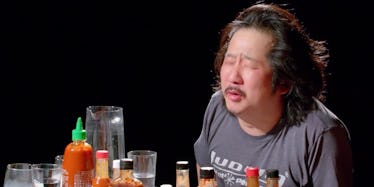 Guy Savagely Devours Spicy Wings, Can't Take The Heat And Poops His Pants
YouTube
Spicy food can be so delicious and so deadly at the same damn time.
As for comedian Bobby Lee, he perceives spicy chicken wings to just be deadly -- forget the delicious part.
In a recent interview with First We Feast, the 45-year-old comedian appeared on "Hot Ones," a segment that hilariously forces celebrities to try a variety of different hot sauces while chowing down on chicken wings.
Sure, when you're really hungry, but you also need to promote yourself, I'm sure it sounds like a genius idea to partake in a "Hot Ones" interview with Complex's Sean Evans.
Free wings? Fuck yeah... Just try not to shit yourself.
No, seriously, Bobby Lee wasn't able to take the scorching heat and spiciness from the wings so he actually shit himself.
The video description reads,
The comedian and actor Bobby Lee puts in one of the most outrageous—and outrageously funny—Hot Ones performances to date. As he battles the onslaught of Scovilles, he reminisces about his Mad TV days, rates the most iconic short-shorts, and tries (perhaps unsuccessfully?) to not lose control of his mind and his bowels.
Throughout the hilarious video, Lee's facial expressions speak volumes as he devours wing after wing.
Things get so heated that Bobby Lee even tells his agent "fuck you" in the sternest tone possible. Still, he powers through the tough challenge and makes his way to the very last hot sauce for the ultimate test.
As soon as he applies the hot sauce onto the win to reel in the victory, he literally "sharts" so loud I think I heard it all the way over here in Los Angeles. Bobby Lee loses total control of his mouth after cursing everyone out JUST before losing complete control of his bowel movements.
I feel bad for the intern that had to clean up the mess.
Check out the hilarious video above!
Citations: Comedian Bobby Lee Eats The World's Hottest Wings, Comes *This Close* To Pooping Himself (BroBible)