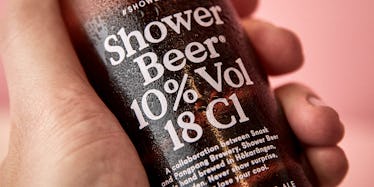 Shower Beer Is Actually A Thing So Now You Can Get Lit In The Soap Suds
Behance
There are a few simple pleasures in life: putting on warm socks on a cold day, climbing into clean sheets when you're exhausted and, of course, shower beers.
I still remember asking one of my old roommates,
Hey, uh... why is there an empty beer bottle in the shower?
It was then they bestowed the knowledge of a shower beer upon me. A cold, icy brew and a steamy hot shower? I was a skeptic who was quickly sold on the idea...
Except I always ended up getting water into my beer, and that sucked.
Shower Beer is set to change our lives.
Snask, a Swedish design firm, and PangPang Brewery have completely changed the shower beer game (a game that I have been a part of for years and never questioned: could this be improved?).
Some people are so innovative, while I am just drunk in the shower.
The pale ale is hand-brewed in Southern Stockholm and comes in 6-ounce bottles -- yes, I know what you're thinking.
That's half of a regular bottle of beer, but by the time you get halfway done with your brew in the shower, it's already warm, right?
Shower Beer has 10 percent ABV.
Three chugs in, you're done and probably a little buzzed.
Snask's Fredrik Öst told Bustle,
It's a sweet tasting and well-balanced pale ale with notes of citrus. It will give the drinker a thought of fruit as well as putting on [your] dancing shoes.
Sadly, the beer is only available in Sweden. Whomp, whomp...
Öst said,
The first batch sold out instantly and the second one is on it's way. Right now it retails for $12 a bottle but we are not sure how it will be priced outside Sweden
Ugh, I guess until then I'll just keep drinking WARM SHOWER BEERS. This is ridiculous. It's 2017, come on.
Citations: Actual Shower Beer Exists Now Thanks To Snask & PangPang Brewery, Because Of Course It Does (Bustle)