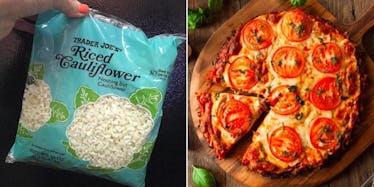 Riced Cauliflower Is The Best Cooking Hack To Cut Carbs Out Of Your Recipes
Instagram
Eating healthy is a lot less fun than stuffing your face with whatever the hell you want.
But if you're looking for a sneaky way to cut carbs and add more veggies to your diet without giving up your favorite foods, you came to the right place.
I'm about to let you in on a little food secret that has seriously changed my life: riced cauliflower.
Lately, riced cauliflower has been gaining a lot of attention, and now it's practically flying off the shelves of food stores like Trader Joe's. It's not hard to see why people are going batshit crazy over these little chopped-up bits of cauliflower.
This healthy ingredient has a mild taste and soaks up whatever flavors you season it with, so the possibilities of what you can make with this stuff are pretty much endless.
Since I'm always on low-carb diets, I'm pretty obsessed with riced cauliflower, and I low-key put this shit in everything I eat.
You can use this glorious ingredient to make everything from a simple bowl of low-carb rice to veggie packed "oatmeal", guiltless sushi, Paleo desserts and everything in between.
Plus, riced cauliflower can even be used to swap out the unhealthy refined carbs in things like bread, pizza crust, tater tots and taco tortillas.
So yeah, riced cauliflower will basically change your whole outlook on eating healthy. You're welcome.
Check out the pictures below for a closer look at all the ways you can use riced cauliflower.
Move over, kale. There's a new health food gaining popularity. Riced cauliflower is all the rage.
This stuff has been selling out left and right at Trader Joe's, so if you can't seem to snag a bag...
...you can make it yourself by simply throwing some cauliflower into a food processor.
Riced cauliflower can be used to make healthier versions of all your favorite snacks.
So far, we've seen everything from breakfast pizzas made with cauliflower crust...
Low-calorie cauliflower oatmeal...
And veggie-packed pancakes...
To curry fried cauliflower rice...
Figure-friendly stuffed peppers...
...and delectable sushi rolls that won't sabotage your diet.
You can use riced cauliflower to lighten up your precious pizzas...
Transform your tabbouleh into an Atkins-approved snack...
...or make some baked tots that won't break that calorie bank.
You can't go wrong with a veggie-packed burrito bowl...
Some cheesy cauliflower breadsticks...
A low-carb copycat of your favorite tortilla-wrapped treat...
...or some grainless grilled cheese, either.
Plus, you can even use this sneaky ingredient to make guilt-free desserts like this savory cauliflower cake...
This Paleo rendition of rice pudding...
...and these better-for-you brownies that taste just as good as the real deal.