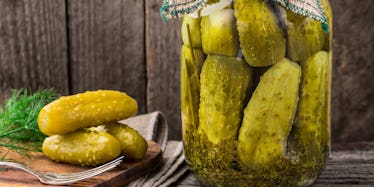 A Restaurant That Only Serves Pickles Is Opening And We're Irrationally Excited
Shutterstock
I spent years convincing myself I would hate pickles.
I'm a notoriously picky eater, and I just assumed pickles -- like M&Ms, apples, oranges, grapefruit, bananas, fish, Doritos, milk, coffee (I know, shut up) -- were inherently disgusting and I shouldn't bother.
Then, I was coerced into trying one. It was like I was seeing the world clearly for the first time.
You know you love pickles when you ship them from home @BestMaidPickles #texastradition #texasgirl pic.twitter.com/lkornkcOwK — Selena Gomez (@selenagomez) April 3, 2015
If you agree eating pickles is the closest human beings can get to experiencing heaven, you'll be thrilled to hear a new pickle-focused restaurant will be opening up in New York City this year.
The restaurant is from the geniuses behind The Pickle Guys, a popular kosher pickle shop in the Lower East Side. While it doesn't have a name or a menu yet, the manager, William Soo, explains it'll focus heavily on fried pickles.
Yes, you heard me.
If you're thinking, "Eh, fried pickles, whatever, that's aggressive," I'm going to assume you have not tried a fried pickle. It is the marriage of two of the most precious things on this earth: pickles and a deep fryer.
Look, even if you claim to only enjoy pickles on your burger or as part of your shot-taking process, you will like fried pickles. That's the magic of deep fryers.
The space will be more for takeout than sit-down meals. So, I'm sorry, it's probably not a good option for your Valentine's Day dinner. It'll have counter service with a few stools and tables for those of you who can't wait until you get home to stuff your faces.
The space may also sell other items like fried okra and fried tomatoes because, as Soo puts it, "They pickle many things throughout the year."
One thing they do know, though, is the menu will be entirely kosher.
The restaurant will open in March or April... just in time for you to forget all about your New Year's resolutions of eating healthy, thank god.
Citations: LES Mainstay The Pickle Guys are Opening a Fried Pickle Restaurant (Eater)