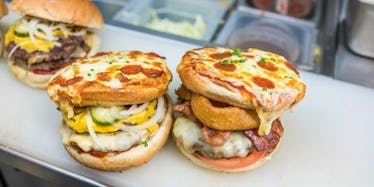 'Meatzza' Combines Pizza And Burgers At The Same Damn Time Because Why Not
Instagram
Are you tired of following the unspoken rules of grubbing? I am.
As I'm sure you are, I'm fed up with the imaginary constraints on how we should be eating our food, and what we should and shouldn't be eating it with.
That's precisely why we should all be grateful major cities, like Los Angeles and NYC, continue to push the boundaries within the limitless world of food porn.
If you were blown away by food concoctions like the world-famous "Cronut" from Dominique Ansel or LA's drool-worthy "Sushirrito," you just might faint at the sight of the city's latest offering.
Here's a hint: It combines two of the best foods in the world... Well, I guess that kind of gives it away.
Behold, the "Meatzza" from LA-based burger joint MEATHEAD!
If there's anything we can all agree on, it's this should have been properly executed a long time ago.
Sure, this isn't the first time anyone's ever handcrafted a pizza-burger hybrid, but this right here? This is a fucking masterpiece.
You're looking at a "Meatzza"-style cheeseburger with bacon and tomato.
The burger's bun is topped with a literal mini-pepperoni pizza to provide all of the flavorings your burger's lacked for decades.
When you're done devouring that, MEATHEAD! offers a wide variety of other delicious burgers including this chicken katsu beaut.
Downtown Los Angeles (and my tastebuds) will never be the same after these "Killa Kam" bulgogi fries.
You can even do breakfast the right way with this "Threesome Burrito" featuring tater tots and bacon.
If all of that savory goodness is too much for you, just go with a classic double cheeseburger.
All other burgers aside, I highly suggest ditching that weak slice of pizza for something a lot more fulfilling... Like the rule-breaking "Meatzza" burger.
As you can see, it really steals the food porn spotlight here!
Citations: This Hamburger Has a Pizza Bun Because Progress Is a Many-Splendored Thing (Los Angeles Magazine)