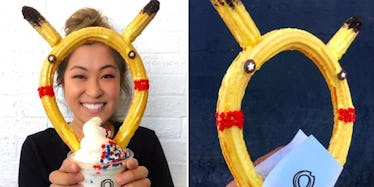 Pikachurros Are The Pokémon Go-Themed Dessert You Didn't Know You Needed
InstagramInstagram
It's no secret people are pretty obsessed with Pokémon Go.
In fact, if there's one thing we can learn from the resurrection of our favorite childhood game, it's that nothing is safe from being turned into the next Pokémon Go novelty these days, not even out favorite foods.
Yep, all aspiring Pokémasters know chasing after those creatures and strong-arming Pokéballs all day can seriously work up an appetite.
So, it only makes sense that someone would finally transform our beloved game into one serious badass snack.
Allow me to introduce you to the almighty Pikachurro.
That's right, the California-based churros cafe, The Loop, just put a Pokémon spin on its signature snack and created an epic Pikachu-inspired churro.
Unfortunately, these adorable eats aren't on the menu just yet. But as you can imagine, these cute confections are in super high demand amidst Pokémon-crazed customers, so The Loop is thinking about adding these sweet snacks to the permanent menu.
It turns out, the cafe is also a Pokéstop, so for now, we'll just have to settle for stuffing our faces with normal non-Pokemon-shaped churros while we catch 'em all.
Check out the pictures below to see these adorable Pikachurros:
If you're looking for a place to satisfy your appetite for Pokémon Go...
...you'll be glad to know California-based churro cafe, The Loop, just become a Pokéstop.
But that's not all. In honor of this glorious achievement, it decided to make a special Pikachurro that looks adorably delicious.
Seriously, you'll definitely want to catch this cute AF confection.
Citations: Pokémon churros exist and we've gotta eat 'em all (Metro UK)