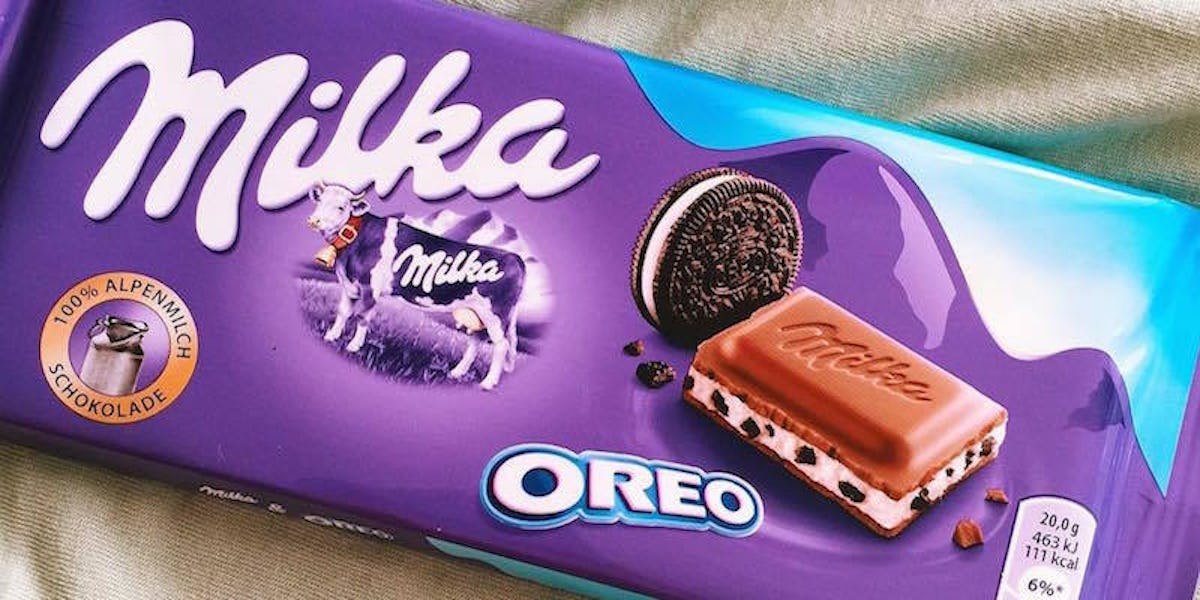 Oreo Finally Came Out With Candy Bars And They Look Too Good To Be True
Last night, just after the stroke of midnight, Oreo's Wondervault reopened and unveiled a glorious new gift to the world.
Don't worry. This coveted new cookie creation isn't another strange Oreo cookie flavor inspired by marshmallow Peeps or gummy Swedish Fish.
Oreo finally came out with candy bars, and they're basically every Cookie Monster's ultimate dream come true.
That's right. In collaboration with the European chocolate brand Milka, Oreo debuted not just one, but two epic new candy bar flavors this morning.
Now, if you're wondering what these sweet new treats entail, let me give you the deets:
There's the "Milka Oreo Big Crunch Candy Bar" and the "Milka Oreo Chocolate Candy Bar." The first is expected to hit shelves in limited quantities this week, and the second will be available everywhere by January.
According to Cosmopolitan, Oreo announced in a press release,
The Milka Oreo Chocolate Candy Bars combine two of the world's most iconic brands and treats: Oreo cookies and Milka European chocolate candy, the No. 1 chocolate candy in Europe.
The "Milka Oreo Big Crunch Candy Bar" features a solid layer of crunchy Oreos that are sandwiched between two layers of vanilla creme filling and cloaked in magnificent Milka chocolate.
The "Milka Oreo Chocolate Candy Bar," on the other hand, contains a delectable layer of Oreo creme mixed with chocolate wafer bits that is then covered in a layer of Milka chocolate.
If you're wondering what they taste like, those who have already tried these bad boys are saying that the candy bars aren't overbearingly sweet.
In fact, many report that these Oreo candy bars taste similar to a handheld, portable version of eating crunchy Oreo cookies with milk.
As you can imagine, a lot of people are super stoked about these decadent cookie-filled candy bars.
Not to mention, this sweet news is the perfect cure for those pesky Monday blues, and I think we all deserve to treat ourselves after the rollercoaster of post-election emotions we all endured last week.
Citations: Dear World, Oreo Just Dropped Its First-Ever Candy Bars (Refinery29), PR Newswire, Cosmopolitan