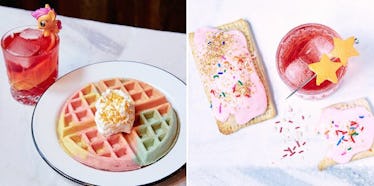 Negroni-Flavored Desserts Exist And Here's Where You Can Get Your Boozy Fill
Campari
Say hello to a hardcore sugar hangover, because Negroni-flavored desserts actually exist on this earth.
Yup, you heard that right. Your tastebuds will be having a serious rager in your mouth with these boozy, sweet treats.
This news couldn't have come at a more prime time, because June 5 marks the beginning of Negroni Week 2017. Get ready for seven days and seven nights of lavish cocktails and serious #FoodPorn coming your way.
Presented by Imbibe Magazine and Campari, Negroni Week has aimed to raise money for charities across the globe since 2013. Venues participating in this celebratory week have collectively raised almost $900,000 for charities to date.
Here's how you can savor your way through Negroni Week 2017 while donating to the cause.
1. Negroni Ice Cream Sandwich from Break Room 86 and Coolhaus (Los Angeles, CA)
Step out of the heat and cool off with this refreshing snack. The almond biscotti cookies and coconut Campari ice cream certainly make this treat one of a kind.
You can *treat yo'self* to the Negroni ice cream sandwich at the Break Room 86 ice cream truck bar.
2. Negroni Glazed Raspberry Madeleines from Craftsman and Wolves (San Francisco, CA)
To ring in Negroni Week the right way, Craftsman and Wolves is dishing out 4-packs of these pink mini cakes for you to indulge in. You won't be able to get enough of this bittersweet combo.
These goodies support the SF Marin Food Bank.
3. Deconstructed Negroni Sundae from Tartine Manufactory (San Francisco, CA)
This boozy spin on your typical summer sundae features orange blossom ice cream, Campari Pate de Fruit, strawberry, and juniper meringue for $12, with proceeds going to No Kid Hungry.
4. Barrel-Aged, Negroni-Glazed Old-Fashioned Doughnut with Foie Gras "Sprinkles" from The Saratoga (San Francisco, CA)
These homemade doughnuts are deep-fried to perfection, then dunked into a barrel-aged Negroni glaze. As for the finishing touch, a topping of Foie Gras sprinkles make this plate totally Instagram-worthy.
These sweet babes support the SF-Marin Food Banks.
5. Grapefruit Negroni Creamsicle from Tipsy Scoop (New York, New York)
I scream, you scream, we all scream for *tipsy* ice cream.
A dollar from each pint of this glorious Negroni creamsicle will be donated to Lovin' Spoonfuls Food Rescue.
6. Negroni Pop-Tarts from Butter & Scotch (Crown Heights, Brooklyn)
With just one taste of these Negroni custard-filled gems, you'll never want to eat a regular Strawberry Pop-Tart again. Butter & Scotch completes their Pop-Tarts with lavish orange and Campari icing.
7. Negroni Pony Waffle from The Horny Ram (New York, NY)
Move over unicorn pancakes, because this Negroni pony waffle is what's up.
This breakfast treat will only be available for your tastebuds to experience during Negroni Week, so order it up while it lasts.
These little Negronuts are so darned cute, I just want to eat them all up.
Filled with Carpano Antica whipped cream and glazed in Campari and orange deliciousness, they're a must on every foodie's Negroni Week bucket list.