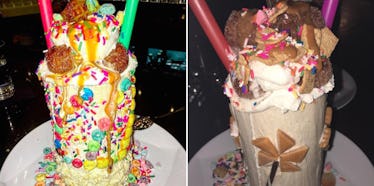 These Ridiculous Milkshakes Are Literally The Most X-Rated Food Porn
Instagram
Sure, their craft burgers and specialty sliders look absolutely impeccable… but it's what Buns Bar serves for dessert that people are going absolutely wild over on Instagram.
A passionate dessert connoisseur myself, I have to say I'm definitely ALL about the social media hype.
The restaurant's menu highlights the most ridiculously elaborate milkshakes I have ever seen. I want one in my life (and belly) ASAP.
Try not to drool, and get ready for some serious X-rated food porn.
Buns Bars' Instagram bio reads, "The Biggest Shakes In The World," so it's clear these babies will put you in the best kind of sugar coma…
…And make your wildest dreams come true.
I could watch this video a billion times in a row it's so dang mesmerizing.
These shakes will most certainly get you majorly ~lit~ on ice cream in no time.
Feast your eyes on the elaborate (and v. scrumptious) process behind these famous milkshakes.
Mini cinnamon dusted pumpkin donuts, anyone? This sea salt caramel goodness really knows what's UP.
The calorie count on this vibrant masterpiece is probably downright INSANE, but TBH, I'd definitely #DoItForTheGram and satisfy all of my guilty pleasures.
A shake topped with chocolate lava cake? Sounds sinfully delicious.
I GOT BIG BUNS, AND I CANNOT LIE.
JUST LOOK AT THIS THOUGH. It's literally a drink fit for a unicorn.
Don't even get me started on their holiday-inspired shakes…
This adorable Santa milkshake is literally topped with apple pie…
While this festive mug is decorated with a glittery Christmas tree.
The caption reads,
It's #Christmas Eve, and #Santa is making his way around the #World right now !! Instead of #Cookies, we are leaving #Santa #Milkshakes
*casually slides down chimney pretending to be Santa, and chugs all the shakes before the jolly man gets there*
Does that put me on next year's naughty list?
OOPS. #WorthIt.
Buns Bar, you're the real MVP.