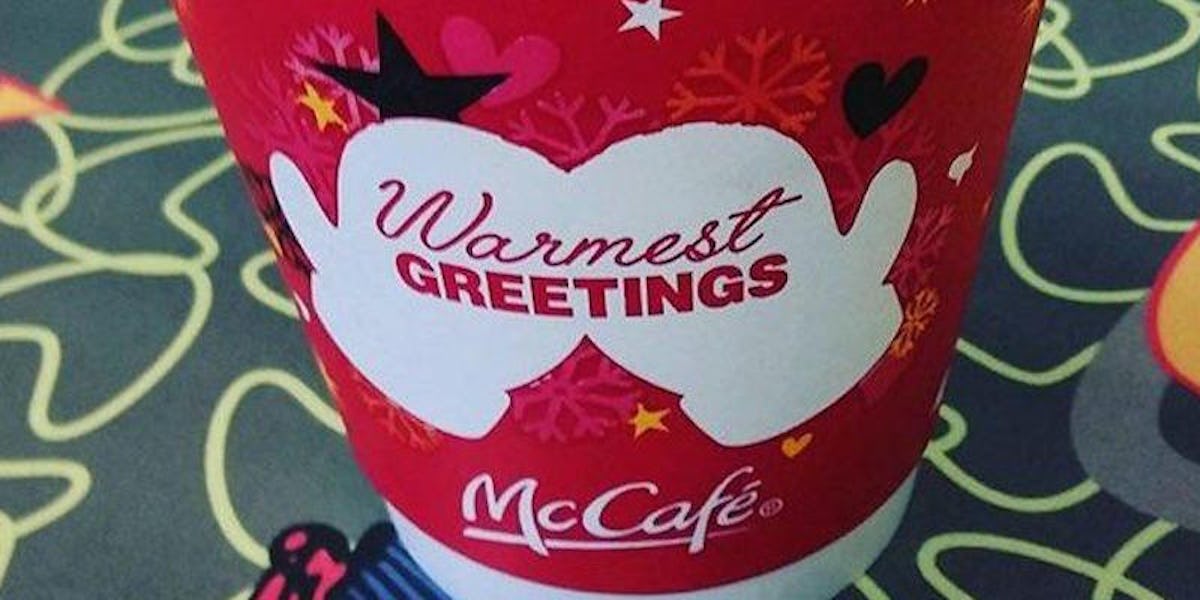 You'll Never Unsee This Kinky Illusion On The New McDonald's Holiday Cups
Twitter
When it comes to serving up some Christmas spirit, Starbucks normally steals the spotlight with their annual (and sometimes controversial) collection of holiday-themed cups.
However, it turns out Starbucks' cheerful red cups may have some competition this year.
That's right. McDonald's just released a bunch of its very own festive cups in honor of the holiday season.
However, it looks like there's some controversy brewing over the steamy sips being served at McDonald's restaurants in the Bay Area.
Sure, at first glance the white mittens and snowflakes on this cup may seem like just another innocent winter scene.
However, people on social media have been pointing out the design on McDonald's new holiday cups is on a mission to uh, spread more than Christmas cheer.
No, really, I'm not kidding.
McDonald's may want to consider hiring a new design team because the illustration on this cup basically looks like a person spreading their butt cheeks.
Yeah, and you thought Starbucks had some pretty offensive cups.
The fact that this McDonald's cup has "Warmest Greetings" scribbled right across its mooning mittens makes this kinky cup even more hilariously inappropriate.
Now Twitter has a lot of questions about these bootylicious beverages.
@ziyatong @McDonalds Almost fell for it. pic.twitter.com/zBhwmo2goZ — Jose Torres (@RoboLobo21) December 11, 2016
Some people are asking why the hell McDonald's has someone busting it open on their coffee cups.
Others have made cheeky comments about the cups, pointing out McDon's is low-key covering their holiday cups in strippers.
We've also seen some creative geniuses who used Photoshop to add a festive fart to these seasonal cups.
Of course, a few people took the butt jokes to a whole new level of raunchiness.
But who knows, maybe McDonald's purposely chose this design. Maybe it wanted to show the world it dead ass loves the holidays.
Citations: This McDonald's Holiday Cup is Surprisingly NSFW (Cosmopolitan)