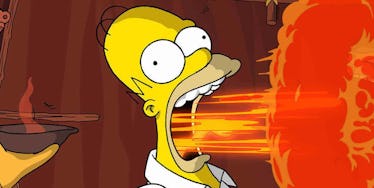 The Hottest Chip In The World Is So Insane Only One Chip Is In Each Package
Fox
If you really hate yourself may I recommend you take a bite of Paqui's Carolina Reaper chip.
I say "chip" in the singular because Paqui's mouth-scorcher is not meant to be eaten in handfuls. It's meant to be digested one at a time and probably followed up with a full gallon of milk.
That bad boy is coated in dust made from Carolina Reaper peppers, the same peppers that broke records by clocking in at 2.2 million Scoville units.
Jeff Day, Brand Manager for Paqui Chips, told Mashable,
We're always looking to push the limits to find fun ways for our fans and consumers to engage with us. When we decided that we wanted to make the world's hottest chip, we first said, well, we need to find the world's hottest pepper.
This chip is so hot that it isn't even sold in bags. It is distributed to consumers in tiny little coffins that would be adorable if its contents weren't notorious for melting your face off.
Day points out,
The single chip serving size is more than just a cute marketing idea, it's kind of necessary for the chip. The reason that we're selling this as one chip is because quite honestly, that's all that you need. That's all that anyone needs.
He later went on to say,
It's the hottest chip you'll ever have, I can guarantee you that. After you eat that one chip, trust me, you're not looking to dig back into the bag and have a second one. So, one chip is what we created to have the experience.
If, for some reason, this seems like something you'd want to get involved with Paqui is currently holding the "PAQUI CAROLINA REAPER ONE CHIP CHALLENGE."
To enter, all you have to do is film yourself eating one of these mouth grenades and tag the video with @PaquiTortillas, #OneChipChallenge and #sweeps. (that, or you can enter through their site).
Everyone that enters gets a free bag of Paqui chips with a select few grand prize winners taking home a GoPro and a years supply of chips so that you can continue harming yourself for an entire 365 days.
Citations: Spiciest tortilla chip in the world is sold one chip per package (Mashable)