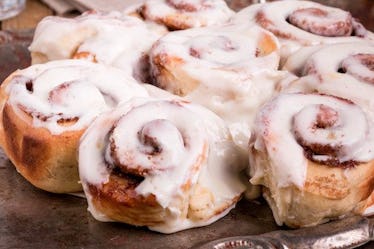 This Guy Carrying A Giant Tub Of Cinnabon Frosting Is Living All Our Dreams
ShutterShock
Not all heroes wear capes — some haul massive tubs of Cinnabon frosting through their cities. OK, maybe just one hero — but this guy is seriously living the dream and we want in.
The mystery man was spotted on a Toronto bus carrying a 30 gallon barrel of frosting and Twitter user Craig Calhoun was kind enough to snap a photo for those of us sitting at home browsing our social media feeds.
This guy looks so happy — and can you blame him? I'd be smiling, too, if I was headed anywhere to eat Cinnabon frosting.
The Internet responded accordingly, because it's not every day that such an amazing thing happens on public transit.
He's an overnight icon
Simon & Garfunkel, Ginger Rogers & Fred Astaire... they've got nothing on this mystery man and his Cinnabon frosting.
Where you lead...
To the ends of the earth, guys.
Some people had a darker interpretation
Well, when you put it that way... yikes.
Our imaginations have gone wild
The possibilities are endless, really.
Even Cinnabon has weighed in on the matter
Sometimes, Wednesday Wisdom needs to come early because it's just that important — and this is just one of those moments.
We don't know who this mystery man is, and maybe we never will — but he's living the dream and we can only hope that he shares at least some of that delicious frosting with his pals. If this isn't the perfect example of "living your best life," we simply don't know what is.