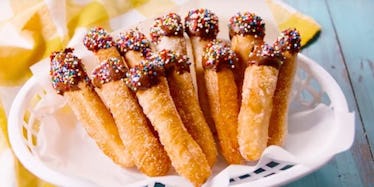 Doughnut Fries Are The Delicious New Hybrid Of Your Favorite Guilty Pleasures
Thanks to the food porn revolution, people are constantly trying to push the boundaries of hybrid snacks.
If you're starting to get bored of stuffing your face with sushi burgers and pizza waffles, don't worry.
We just came across another epic food mashup you definitely doughnut want to miss out on.
That's right. The evil geniuses over at Delish just figured out how to take two of the most delicious foods on the face of the planet -- French fries and doughnuts -- and turn them into one heavenly hybrid snack.
Feast your eyes on the almighty Donughnut Fries.
Now, you're probably wondering, what the hell is this glorious culinary creation?
Well, it's actually quite simple.
This mouthwatering mashup gives your beloved doughnuts a bougie makeover by turning them into delightful strips of fried dough that are dipped in chocolate, covered in rainbow sprinkles and downright adorable, to say the least.
If you're looking to get your hands on a basket of these cute AF Doughnut Fries, you'll be glad to know Delish was nice enough to share its recipe in an awesome step-by-step video.
To make these bad boys you'll need refrigerated biscuits, like Pillsbury Grands, vegetable oil, sugar, melted chocolate chips and rainbow sprinkles.
Once you have all of the necessary supplies, pop open a can of biscuits and grab a rolling pin.
Roll out each biscuit until it is about 3 to 4 inches in length, then slice the dough into strips.
Next, fill a large pot with 1 inch of vegetable oil and place it on the stove over medium-high heat.
Once the oil begins to bubble, place your biscuit strips in the pot and fry them to golden-brown perfection. Then, remove your fries from the oil and place them on a paper towel-lined plate.
Once you're done frying all your dough, coat your Doughnut Fries in sugar...
Dip those delectable fries in melted chocolate...
...smother those bad boys in sprinkles and voilà!
You have just created a bunch of bougie Doughnut Fries, which you definitely won't want to share.
Citations: Doughnut Fries Are The Cutest Sweet Snack (Cosmopolitan)