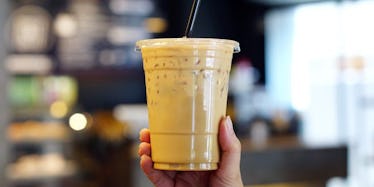 This Food Delivery App Is Giving Away Free Iced Lattes Today, So Order Up
Shutterstock/ thaweerat
In case you haven't heard, summer's sticking around a bit longer this year. According to data from the Weather Channel, there will be record-high temperatures this fall, so you might want to get that PSL iced instead. Though its seems you're going to want something cool and refreshing as the end of the year approaches, August is still the prime time to order iced beverages. To celebrate, food delivery app DoorDash is offering free iced lattes for new customers, so you'll have the perfect way to cool down.
According to the app's research, people order more iced lattes for delivery on Aug. 2 than any other day, so this is obviously cause for celebration. Until 11:59 p.m. PT, new customers can get their hands on a free drink on Iced Latte Day if they act fast. Today also ends Jet Blue's Fall Runway Preview Sale, so while you're booking that cheap vacation, you can also score a deal with your coffee and feel like you're living large. Free iced lattes, $39 plane tickets — this all certainly sounds like paradise!
According to the DoorDash statement, you'll receive $5 off an iced latte when you spend $15 or more. This Lotta Latte Love promotion only applies to new customers, however, so keep that in mind before requesting delivery. That's a whole "lotta latte love," if you ask me
If you're ready to place an order, there are a couple of things about coffee to keep in mind. For one, it helps boost your workout to achieve maximum results. Caffeine makes it easier for your muscles to burn fat and increases alertness, which in turn makes that round on the elliptical seem less grueling. So now you're definitely going to order that mid-afternoon latte, right?
Now that you're even more convinced that iced latte is a good idea, get that order out and enjoy your bev!