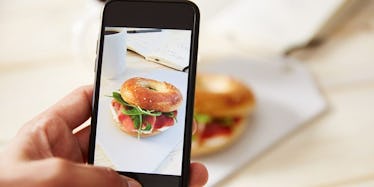 Genius Restaurant Offers "Instagram Kits" To Make Your Food Extra 'Grammable
Raise your hand if your #foodporn and #nomnom shots have suffered from poor restaurant lighting.
I get it, restaurants want the ambiance to be moody as you chow down on their fancy recipes, but that creates a challenge for those of us who enjoy documenting our every meal on Instagram — for maximum likes.
One Soho, London, hot spot understands the social media struggle, and offers "Instagram Kits" to help their dishes look desirable on the 'gram.
That's right: Dirty Bones, which specializes in "New York comfort food and cocktails," is now offering its customers free "Instagram Kits" so they can achieve the perfect snapshot.
It's a brilliant idea.
My fellow foodies, you needn't awkwardly borrow your friend's iPhone flashlight while at Dirty Bones, because they have you covered.
According to Mashable, the "Instagram Kit" comes with everything you need for a hi-res table-side shot, including a portable LED light, a multi-device charger, a clip-on wide angle camera, and a tripod selfie stick.
From close-up shots of melty cheese to overhead shots of the full spread (and of course, a few selfies with your crew), you can literally feed every aspect of your social media addiction with a kit like this.
The best part is -- thanks to that multi-device charger -- you won't drain your entire phone battery before the food arrives!
A spokesperson for Dirty Bones released a statement to Mashable about the incredible, business-savvy idea. They said,
People love to share what they're eating on social media, so we wanted to put together something that made it easier to get that perfect shot regardless of the lighting or time of day. More and more people are also using Instagram to help them decide where to eat, so as a restaurant group it's key for us to make sure that people are getting the best possible shots of all our dishes and drinks.
They. Get. It.
So, how do we make this a standard thing at all restaurants?