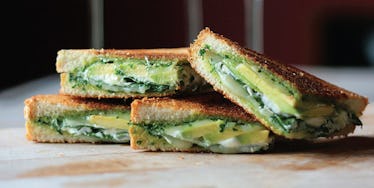 30 Grilled Cheese Sandwiches You Didn't Know Could Possibly Exist (Photos)
There aren't many things in life that can compare to the simple joy of biting into a warm, melty grilled cheese sandwich.
Despite the fact that my mother usually burnt it to a crisp (cooking was never really her thing), grilled cheese was always my favorite meal as a kid, and not much has changed since then.
If you're a grilled cheese fanatic like myself, then you are probably celebrating National Grilled Cheese Month right now.
But if you ask me, we should honor these scrumptious cheese sandwiches every day, and you shouldn't have to use a holiday as an excuse to dive face first into a heaping pile of gooey grilled cheeses.
We set out to find some of the most epic grilled cheese recipes of all time and trust me, these gourmet renditions of your beloved classic sandwich do not disappoint.
However, you might want to whip these bad boys up when no one else is home because let's face it, there's no way you're going to want to share these with anyone.
Avocado, Asparagus and Dill Havarti Grilled Cheese
Bacon-Pretzel Grilled Cheese
Avocado BLT Grilled Cheese
Loaded Nacho Grilled Cheese
Baked Potato Grilled Cheese
Avocado Pomegranate Grilled Cheese
Balsamic Vegetable Grilled Cheese
Bacon Guacamole Grilled Cheese
Balsamic Blueberry Grilled Cheese
Brie, Apple and Bacon Grilled Cheese
Caprese Grilled Cheese with Arugula Pesto
Dulce De Leche and Mascarpone Grilled Cheese
Fried Chicken and Waffle Grilled Cheese
Green Goddess Grilled Cheese
Grilled Cheese Fries
Jalapeño Popper Grilled Cheese
Lobster Grilled Cheese
Lasagna Grilled Cheese
Grilled Macaroni and Cheese Sandwich
Mozzarella, Kale and Prosciutto Grilled Cheese
Cream Cheese and Nutella Grilled Cheese
Parmesan Crusted Pepperoni Pizza Grilled Cheese
Cranberry and Brie Grilled Cheese
Spinach and Artichoke Grilled Cheese
White Pizza Grilled Cheese
BBQ Pulled Pork Grilled Cheese
Buffalo Chicken Grilled Cheese
Hawaiian Grilled Cheese with Ham and Pineapple
Eggplant Parmesan Grilled Cheese
Cuban Grilled Cheese