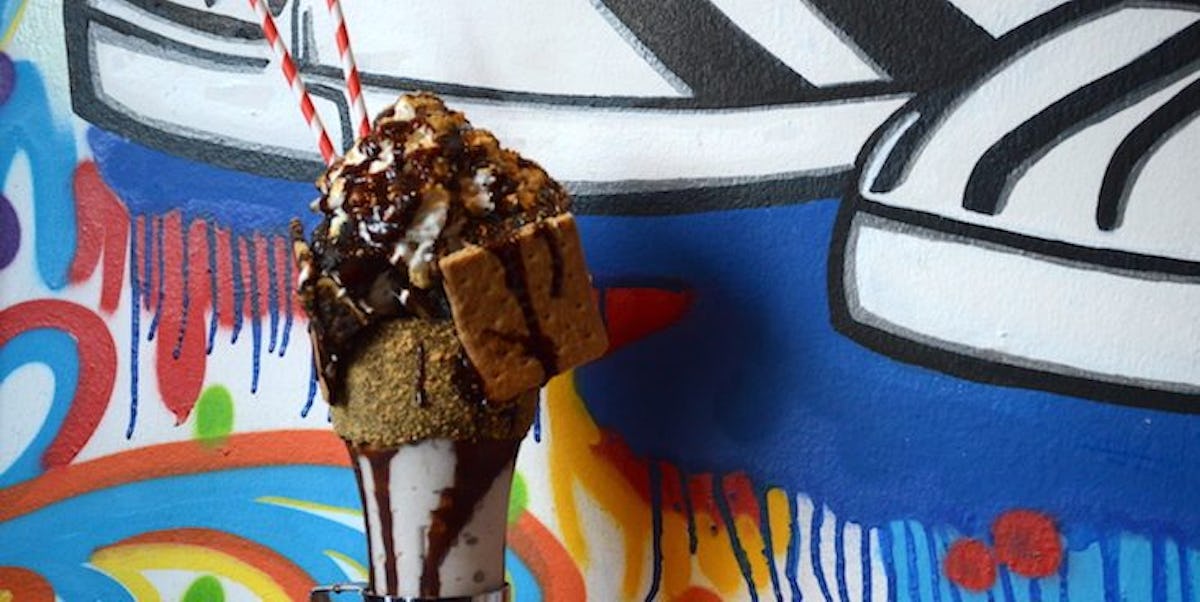 These Chocolatey Milkshakes That Ooze Marshmallows Scream "National S'mores Day"
Danielle Valente
Summer's coming to a close, so it's only appropriate to go out in style. That means celebrating National S'mores Day on Aug. 10 to the fullest — the most savory chocolate and fluffiest marshmallows are required. Black Tap's S'mores Milkshake, created in partnership with Hershey's, is completely taking advantage of the holiday ahead in order to #ShakeUpYourSummer, and there's no choice but to follow the New York City restaurant's lead.
After all, is there really a better way to enjoy chocolate than going all out? The trendiest desserts to hit the scene are all about overindulgence, and Black Tap's fantastic shakes with their out-of-this-world ingredients seems like an appropriate option for the occasion. It's all about taste... and those likes on the 'gram.
"The modern approach is the crazy shake approach," Black Tap owner and Michelin star chef Joe Isidori tells Elite Daily. "We're taking two old-fashioned items and turning them upside down on their heads and turning them into one."
Thanks to this collaboration with Hershey's, Isidori and his team are serving the classic summer snack with a twist. The ice cream is infused with a campfire marshmallow taste that's not-to-be-missed. Before you actually get to the ice cream, however, you have to snack on the perfectly burnt s'mores on top of the cup. The whipped cream drizzled with chocolate and graham cracker crumbs is the perfect start to this dessert.
S'mores was actually something Black Tap never really experimented with beforehand to any great extent.
"We've posted one [s'mores shake] on Instagram, and it's gotten a lot of tracks," Isidori tells Elite Daily. "We just kind of did it for fun, so we're really excited to create a s'mores shake." Obviously, partnering with everyone's favorite chocolate was a no-brainer. "It screams Americana," he adds.
Isidori's team is serious about serving up the best of the best. Taking a torch to a marshmallow, each fluffy pillow of goodness is toasted to perfection before the ingredients are mixed in and strategically placed atop of the shake.
But the finished product is what really excites the crew... and the customers.
"There's one thing that makes me the happiest. Every time I take one of these shakes and put it in front of a little kid, they light up like a Christmas tree, it's absolutely the most rewarding thing of all," Isidori says.
I'm willing to bet kids and adults alike will light up at the sight of one of these bad boys. If you're in New York City, celebrate the holiday with your own shake at Black Tap. Not in New York? No problem. You can make these treats right from your own kitchen, too. Happy National S'mores Day! See you around the campfire.