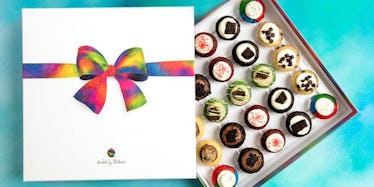 This Bakery Is Giving Away Free Cupcakes Today For A Super Emotional Reason
Baked By Melissa
Tensions in the United States are at an all time high after the tragic occurrences that went down in Charlottesville, Virginia, over the weekend. Since then, it seems like everyone is at war over conflicting opinions and hoping to help quell the tensions is a bakery named Baked By Melissa in New York City.
Starting at 12 p.m. on Aug. 17, anyone across the country can get free cupcakes from Baked By Melissa for their #SideWithLove initiative. There will only be 100,000 cupcakes available, so if you're looking to side with love, make sure to log onto Baked By Melissa's website after 12 p.m., put in your shipping info, and ship yourself a box of 25 mini cupcakes.
Obviously, cupcakes won't solve the world's problems, but they'll definitely help sweeten things up and take your mind off of the horrible things currently happening. Melissa Ben-Ishay, Founder & President of Baked by Melissa, believes that there is no better time to spread a little love than now. In a press release, she said,
The cupcakes in the box will be really special, not just because they are delicious and were sent from someone who cares about them, but also because they represent a simple act of kindness. We hope that people enjoy them, but even more than that, we hope that it inspires them to spread some kindness of their own.
Of course, I've signed up out of curiosity and there happen to be thousands upon thousands of people waiting in a virtual line, so sign up while you can. In the meantime, you can always bake your own cupcakes and give them away to your neighbors for free as a sign of peace.
Companies like Baked By Melissa are amazing for starting these peace initiatives. Hopefully, other companies will take notice and decide to do the same thing. Free food won't solve the world's problems, but it'll definitely help get your mind off things.