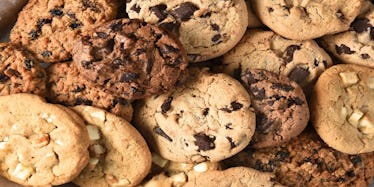 A Baker With Down Syndrome Opened Her Own Business & It's Already A Major Success
ShutterShock
Collette Divitto, a 26-year-old who was born with Down Syndrome, has spent the past six years perfecting her baking skills and forming her own recipes. Her signature specialties are "Amazing Cookie" and the "Healthy Breakfast Cookie."
After completing a LIFE program at Clemson University, Divitto began applying for jobs at local bakeries — but, after three years, she hadn't received a single offer.
"I went on many interviews and thought I did very well in the interview," she explains on her website. "But days later I would get an email always saying the same thing 'we enjoyed meeting you Collette, but we don't think you are a good fit for our company right now.'"
Instead of letting the rejections get her down, Divitto opened her own business — and Collettey's Cookies is already a major success.
After CBS Boston ran a segment on Collettey's Cookies last November, she was inundated with orders from all over the country. Within 10 days, the orders added up to 50,000 cookies and Divitto had received 65,000 letters from people who wished to express their admiration and support.
"I haven't slept at all," Divitto told CBS. "I am really amazed at the support for my company and my cookies."
Her very first client, the Golden Goose Market in Boston, lent Divitto its kitchen space and industrial equipment so she could fulfill all the orders. Some of their employees logged overtime to lend a hand.
Divitto's goal is to grow her business, and she plans to hire employees with disabilities. She's already hired two people with disabilities to work for her in Boston. Divitto is currently searching for her own warehouse so she can have her own kitchen and distribution facility — she'll certainly need it as the cookie orders continue to roll in.
But Divitto isn't stopping there — she hopes to open locations across the country so she can continue to create jobs for people with disabilities. Based on the level of success she's achieved in a matter of months, something tells me that Collettey's Cookies will open multiple shops outside Boston sooner rather than later.
If you're endlessly inspired by this 26-year-old businesswoman/baker/rockstar (who wouldn't be?), visit Divitto's GoFundMe page to help her achieve the goal of expanding her business and empowering other people with disabilities.
Citations: Cookie orders roll in at business owned by woman with Down syndrome (CBS News), About Collette (Colletteys.com)