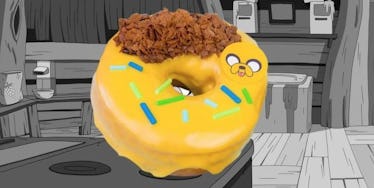 Bacon Pancake Doughnuts Exist Now, So Our Hungover Dreams Have Come True
Instagram
The next time you wake up with a pounding headache and a ton of regret after a night out of drinking, do yourself a favor. Make sure you have bacon pancake doughnuts at your bedside to nurse you back to good health.
No, I'm not kidding -- bacon pancake doughnuts actually exist.
You can thank Jake the Dog from Cartoon Network's "Adventure Time" for this wonderful new food concoction.
Australian bakery chain Doughnut Time teamed up with Cartoon Network Australia to bring these glorious, doughy bites of perfection to life.
They even feature Jake and Finn's signature colors from the show.
Feast your eyes on the "It's Always Adventure Time" doughnut.
What have we done to deserve such culinary greatness?
According to BuzzFeed, the doughnuts feature maple syrup and are topped with "caramelized bacon pancakes."
They're so beautiful. I've never seen a hangover food so perfect.
*Drools like a savage*
I could easily devour about five of these right now (probably more) and I haven't had a drink since last week.
The new Adventure Time doughnuts will be available for a limited time from March 9 and are only being sold at Doughnut Time locations in Australia.
You can watch this promotional video to get yourself pumped up.
The collaboration aims to celebrate Adventure Time LIVE, "an interactive, live audio-visual event featuring members from the all-star cast of the hit Cartoon Network Series."
That sounds like fun, but I can't stop thinking about...
Don't worry, just because you can't make it to Australia doesn't mean you can't take the DIY approach at home.
I mean, how difficult could it possibly be to make doughnuts and put bacon pancakes on 'em?!
Well, I guess it wouldn't be easy if you're half dead and recovering from a drinking binge.
But look at the bright side. It'd be like going on a little food "adventure" in your kitchen.
Finding the right color frosting might be a bit tough, though. But if you're hungry enough, anything is possible. If you end up burning your homemade "Adventure Time" doughnuts, try your hand at these "Harry Potter" cookies instead.
Citations: Get Your Mouth Hole Around These Bacon Pancake Doughnuts (BuzzFeed)