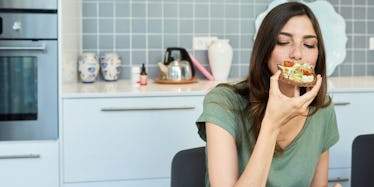 7 Tasty Snacks To Add To Your Grocery List If You Want To Start Eating Gluten-Free
It's not uncommon to hear someone's gone gluten-free these days. With plant-based diets on the rise, as well as documentaries detailing the many downside of grains, it's a popular topic circulating the health and wellness realm for those with, and without, gluten sensitivities. To the typical grain-grubber, it can sound almost impossible to make the switch, but when you really stop and think about how to eat gluten-free, there are a ton of food items that make the transition an easy one.
Before you decide whether or not gluten-free is what's best for your individual dietary needs, you have to understand a) what the diet actually is, and b) what it does to your body. Gluten is a protein found in grains like wheat and barley that gives food an elastic quality. The issue is that gluten is an indigestible protein, and consuming it may cause inflammation or, in extreme cases, irritable bowel syndrome or celiac disease.
If you feel as though you may be experiencing a gluten intolerance, it may be in your best interest to cut back. Swap out your staple snacks for any of the following gluten-free alternatives to give your body the break it deserves.
1. Popcorn
Annie's Organic Butter & Sea Salt Popcorn, $3, Amazon
Here's a snack you can always snag once you've gone gluten-free. Because corn is a whole grain, and all corn is gluten-free, popcorn is an easy answer if you're feeling the midday munchies.
I personally love this Annie's blend because it's lightly seasoned with butter, salt, and is 100 percent organic.
2. Energy Bars
RX Bar Box of 12 Mixed Berry, $25, RX Bar
Looking for something nutritious and delicious? RX bars tell you straight off the bat, this brand is all about no bullsh*t.
Made with whole ingredients always, this berry flavor is packed with cranberries, raspberries, and strawberries for a naturally sweet treat that's high in both protein and fiber.
3. Plant-Based Protein Sources
thinkThin Plant Based High Protein Bar Pack of 10 in Chocolate Mint, $17, thinkThin
Having recently gone plant-based myself, I definitely had my reservations at first on veg-approved bars.
However, thinkThin's new protein snack isn't just plant-based, and it doesn't merely boast 13 grams of protein -- it tastes like a freaking Girl Scout cookie. Yum.
Take it on-the-go as a snack in between classes, or save for later for a tasty dessert.
4. Gluten-Free Cookies
Immaculate Gluten Free Chocolate Chip Cookie Mix, $5, Target
The gluten-free life was a mystery to me until my mother-in-law eliminated the grainy element from her own diet.
Browsing the shelves to find a dessert she could actually eat, I came across this Immaculate box and whipped up a batch. I know a lot of people say you can totally distinguish between gluten-free and gluten-full, but with this boxed mix, I couldn't taste the difference one bit.
5. Pressed Fruit
Pressed by KIND Pineapple Banana Kale Spinach, $14, Amazon
Obviously you could grab an apple or banana on your way out the door, but let's add some sass to snack time.
This pressed bar from KIND offers its snack not one, but two servings of fruit, two grams of fiber, and the ingredients list is a mere five whole food items.
A balanced mixture of veggies and fruit, it's an easy, super yummy addition to breakfast, lunch, or the perfect after-dinner treat.
6. Oatmeal On-the-Go
Munk Pack Apple Quinoa Cinnamon Oatmeal Fruit Squeeze, $10, Amazon
Implement this Munk Pack as a midday snack, or down two as a meal replacement on a busy morning. One squeeze packs a whopping three grams of fiber per serving.
Available in apple quinoa cinnamon, maple pear quinoa, peach chia vanilla, and raspberry coconut, sipping oatmeal has honestly never been cooler.
7. Almond Flour Alternatives
Simple Mills Farmhouse Cheddar Almond Flour Crackers, $5, Simple Mills
Did anyone else love the orange cheddar cracker sandwiches stuffed with peanut butter that your mom or dad would toss into your lunchbox as a kid? Thanks to Simple Mills, you can totally recreate that classic snack with these tasty cheddar crackers.
These gluten-made snacks were made with almond flour, organic sunflower oil, and organic cheddar cheese to pack a ton of flavor sans wheat additives. Smear a layer of natural peanut butter in the middle for an adult-meets-elementary snack your taste buds will go nostalgic for.