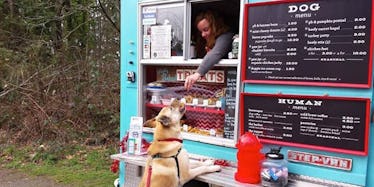 There's Now A Food Truck For Dogs And The Treats Look Absolutely Incredible
When it comes to the West Coast snack scene, food trucks seem to be pretty trendy.
But, you know what's even better than a place to score some delectable meals on wheels? A food truck that makes treats for your furry best friend, of course!
That's right. A food truck for dogs now exists, and it might be the coolest idea ever. The Seattle Barkery is a fido-friendly food truck that whips up delicious eats for its human and puppy patrons alike.
Ben and Dawn Ford came up with this awesome idea about a year ago, and they turned their dreams into a reality by transforming a retro Chevrolet step van into a turquoise food truck named Buster and hitting the road with all sorts of homemade snacks.
The Fords' awesome menu includes all sorts of things safe for pets such as pumpkin cake, cheesy pretzels, peanut butter banana biscuits and some seriously tasty-looking bacon cupcakes guaranteed to make you drool as much as your dog does.
If you're looking to get in on the eating action, you can normally find The Seattle Barkery truck serving a long line of hungry, tail-wagging hounds near dog parks around Seattle, or you can stay in the loop by checking out the company's truck-stop schedule posted on its website.
Check out the pictures below to see this adorable food truck for dogs!
If you're looking to share a bite to eat with your barking BFF…
...look no further.
Some people started a charming food truck…
...that serves humans and their doggy companions alike.
That's right. The Seattle Barkery is one of the few food trucks that caters to canines…
...and it's basically every hungry hound's dream come true.
The turquoise food truck serves up a variety of homemade, pet-safe snacks…
That includes everything from bacon-topped cupcakes and cheesy pretzels…
To precious bags of pup-corn…
Peanut butter banana biscuits…
Doggie ice cream sundaes in edible bowls…
Badass canine cookies…
...and an assortment of doggie birthday cakes that are downright adorable to say the least.
You can normally find the retro food truck posted up outside of dog parks and farmers' markets around Seattle.
But, don't worry if you're not from the Pacific Northwest. You can still get in on the fido-food action…
...because The Seattle Barkery offers some of its tantalizing treats for sale on its website.
Citations: This Food Truck For Dogs Will Make Your Pup Realize Their Adorable Hipster Dreams (Bustle)