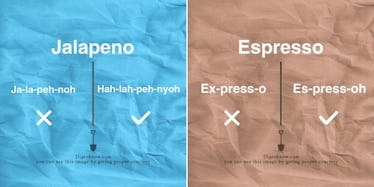 These Are All The Food Names You've Been Mispronouncing Your Whole Life (Photos)
A while back we showed you the right way to pronounce all the different types of wine you've been saying wrong your entire life.
However, wine names aren't the only things in your kitchen you've been butchering.
There are actually lots of common foods with pretty confusing pronunciations you've probably been saying incorrectly as well.
Let's face it, spelling can be a bit deceiving, so we've all fallen victim to asking for a side of "keenoah" with our meal or an "ex-presso" to go along with dessert.
But when it comes to boasting your knowledge of fine cuisine, mispronouncing the name of your favorite dish is probably the biggest food faux pas you can commit.
Recently, the website DigToKnow tracked down all those tricky foods you just can't seem to ever say right and created a helpful pronunciation guide to set the record straight once and for all.
Thanks to this awesome pronunciation project, you won't have to endure the embarrassment of looking like a food-ignorant fool the next time you ask someone to pass the bruschetta at a dinner party.
Take a look at the pictures below to see the proper pronunciations of your favorite foods.
Herb
Salmon
Jalapeño
Quinoa
Bruschetta
Pasta
Onion
Raspberry
Caramel
Cocoa
Buffet
Hummus
Espresso
Almond
Tortillas
Citations: 13 Of The Most Mispronounced Food Names Ever (Bored Panda)