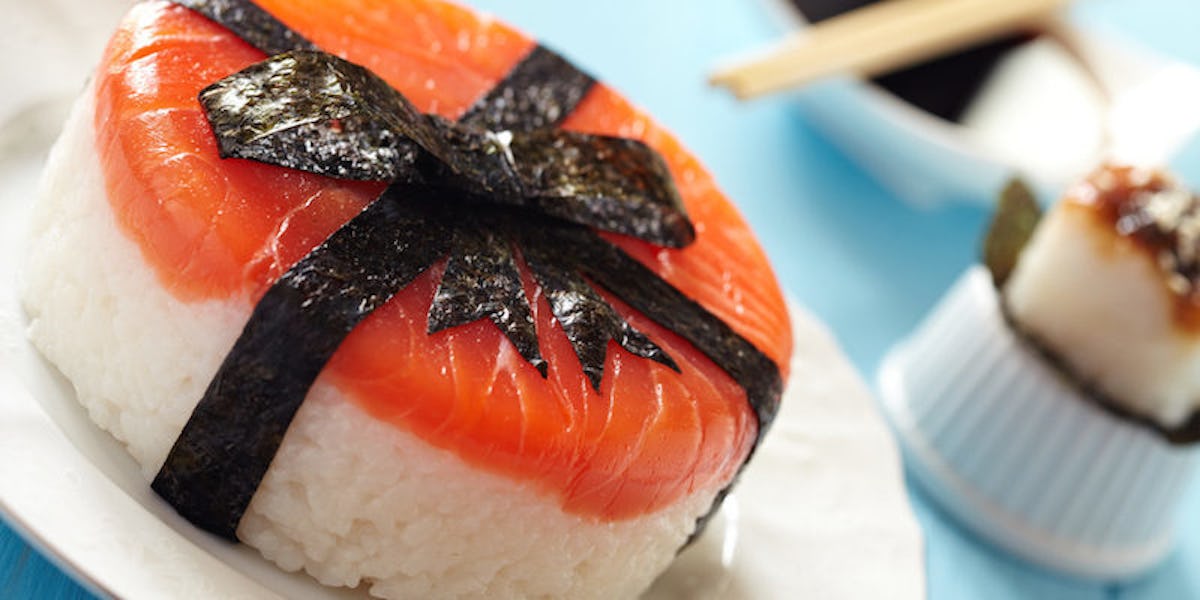 These Insane Decked-Out Sushi Cakes Look Too Delicious To Be True
Shutterstock
As kids our parents always told us not to play with our food.
But if there's one thing we can learn from the #FoodPorn revolution, it's getting creative with your cuisine and playing around with your favorite snacks can result in some seriously mind-blowing eats.
Remember when we showed you those insane sushi burgers a while back? You know, those burgers that had the salmon tartare patties nestled in between two delectable sushi rice buns?
Well, if you thought those mouthwatering hybrid burgers were pretty badass, you might want to brace yourself.
There's a new sushi creation taking over social media, and this fishy Frankenfood might be even crazier than the last one we showed you.
Feast your eyes on the spectacular Sushi Cake in all its delicious splendor and glory.
Now, these intricate sushi cakes may look pretty complicated, but it turns out they're actually not that hard to make since these lil' guys are essentially just fish tartare, rice, nori, avocado, cucumber and wasabi delicately arranged into a delightful, savory cake.
Yep, there's no denying these adorable sushi cakes look downright delicious, and once you try one of these bad boys, you'll never go back to eating sushi in the form of a roll.
Check out the photos below to see this awesome sushi-cake inspo.
Move over, sushi burgers...
There's a new fish-filled Frankenfood blowing up on social media...
...and now, sushi cakes are the latest food craze making people drool.
These adorable, little cakes may look a bit complex...
...but don't let their intricate appearances fool you.
It turns out these sushi cakes are relatively easy to make...
Since all you have to do is take some sushi-grade fish, rice, nori, avocado, cucumber and wasabi, plus any other sushi fix-ins...
...and strategically stack them into the perfect cake creations.
If you're in need of a little sushi-cake inspo...
You can't go wrong with an ahi tuna cake topped in avocado and caviar...
A square cake topped with shrimp...
A classic salmon tartare treat...
A fancy cake topped with sashimi flowers...
...or a sushi cake smothered in all sorts of delicious sauces.
Seriously, these things are way more badass than those boring old sushi rolls.
Citations: Sushi Cakes Are the Newest Crazy Food Fad (Brit and Co)