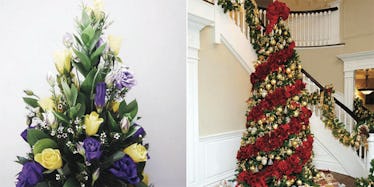 People Are Decorating Christmas Trees With Flowers, And It Looks Amazing (Photos)
Instagram
From halls decked in holly to trees topped in tinsel, there are so many ways to decorate your home for the holidays.
But have you ever wondered what your Christmas tree would look like if you ditched the twinkling lights and gaudy ornaments for something a bit more natural?
Apparently, you get the Internet's latest holiday DIY craze: floral Christmas trees.
People are loading up their firs with all sorts of festive flowers this season, and results are pretty incredible.
If you're looking to add a fresh element to your holiday decor, you'll be glad to know there are all sorts of ways you can get in on this blooming trend.
So far, I've seen everything from bold, fresh-cut blossoms and dried flowers to branches dotted with floral arrangements and pretty petals strung around trees in lieu of the traditional lights.
Take a look at pictures below to see this beautiful Christmas tree trend.
Leave the ornaments in the attic...
...because there's a new trend taking over Christmas trees.
People are trading in the tinsel...
...for all sorts of festive flowers.
Yep, floral Christmas trees are all the rage this year.
Apparently, these festive trees all started as a DIY trend on the Internet.
Now, people are giving their homes fresh takes on Christmas...
...by donning their trees in beautiful blossoms.
Last yr's tree full of floral loveliness! Little excited for tonight's #kirstieshandmadechristmas @KirstieMAllsopp pic.twitter.com/LcU0xYEXQ8 — Jessica Trent (@JessicaTrent) December 1, 2015
You can stick fresh-cut flowers directly into your fir...
Add some blossoms to your traditional bulbs...
String buds around the tree instead of tinsel...
Floral Christmas Tree 3@ pic.twitter.com/t3mT8rkg7R — what's life? (@rumperbdotcom) December 13, 2015
...or add a little Mother Nature-inspired style to your twinkling tree.
There are tons of ways you can get in on this floral tree trend...
...so don't be afraid to get creative and experiment with different types of flowers.
Citations: These Floral Christmas Trees Will Help You Get Your Flower Power On This Holiday Season — PHOTOS (Bustle)