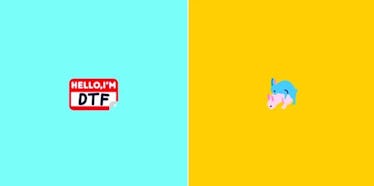 Flirtmoji Are The NSFW Emoji You Never Knew You Desperately Needed (Photos)
Emoji make flirting way easier.
However, there's nothing more frustrating than not being able to find the right emoji.
Especially when you're sending a few steamy sexts to bae. Let's be real: Nothing ruins the mood like trying to decode a bunch of sexually-suggestive fruit and vegetable symbols.
But thanks to the very sexual visual-language company Flirtmoji, your days of using peaches to represent your lady parts may soon become a thing of the past.
That's right. Flirtmoji just released five new vagina emoji to add to your sexting repertoire.
Designed by Flirtmoji artists Jeremy Yingling and Katy McCarthy, each one of these sexy new symbols has a unique shape, color and style.
Yingling told Huffington Post,
We're trying to empower people to better communicate their needs and wants in sex. Visual language (like emojis) is powerful stuff. With Flirtmoji, we worked hard to create the visual language that sex deserves: playful, sex-positive, body-centric, entirely inclusive art.
Apparently, Apple and Android aren't really on board with the whole sexting thing yet.
So if you want to spice up your messages with these bad boys, you'll need to sign up by email to gain access to the Flirtmoji website. Then, simply copy and paste the emoji into your text messages.
And don't worry, there's more NSFW emoji to come, since the company has a "BODIES" collection in the works including things like penises, vulvas and breasts.
Take a look at the pictures below to see these awesome emoji.
Forget the peaches and eggplants.
Now, you can send vagina emoji that look like the real deals...
...thanks to Flirtmoji.
Flirtmoji is on a mission to spice up your sext life with all sorts of awesome NSFW symbols.
If you're feeling frisky, you can tell bae what you're wearing...
...and what you want to do later.
Plus, these emoji make it so much easier to booty call your ex at 3 am...
...and tell him or her to come over because you didn't shave your beaver for nothing.
Seriously, it doesn't get any easier than this.
Nothing says, "I love you," like a bouquet of emoji dildos.
Hey, babe, you wanna pizza this?
Can't find the courage to ask for a threesome? Problem solved.
Plus, there's Flirtmoji for every season...
...so the naughty message possibilities are pretty much endless.
Citations: Adorable Vagina Emojis Exist And We've Never Been Happier (Huffington Post)