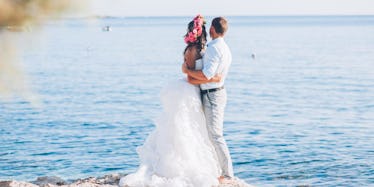 You'll Fall Harder For These Summer Wedding Gowns Than You Did For Your SO
Rex/Shutterstock
Everyone knows summer is one of the best times to tie the knot.
However, if you're planning to have your wedding during the warmer months, it's important to pick a wedding dress that won't make you sweat to death before you have a chance to say, "I do." Those gorgeous gowns may look incredible, but all of that heavy satin fabric and tulle can be quite unforgiving when it comes to keeping you cool.
Let's be real: The fact you'll be walking down the aisle in front of tons of people is nerve-racking enough to make you sweat. If you ask me, you don't need a dress that's hot AF to add to your perspiration problems.
But just because you're tying the knot during the scorching summer months doesn't mean you have to give up your dreams of rocking a dazzling dress at your ceremony. From elegant two-piece gowns and light lacy outfits to backless bridal dresses and stunning sheer ensembles, there are all sorts of lighter wedding dress options that will make you look like Cinderella IRL.
If you're in need of some bridal style inspo, we found a bunch of fabulous wedding dresses that are guaranteed to make you fall in love.
Check out the pictures below to see some of these stunning summer gowns:
When it comes to finding the perfect dress for your summer ceremony...
...you can't go wrong with a boho bridal gown.
Why not try a simple, illusion-style wedding dress?
Channel your inner princess in a sweet strapless gown...
...or a magnificent, mermaid-worthy number.
For the more daring bride, what about a sheer lace ensemble?
Or a beach-ready bridal gown that is simply breathtaking?
Just look at this eye-catching embroidered outfit.
For a garden wedding, try a lovely mullet hemline.
If you're not afraid to show off some skin, this plunging neckline is gorgeous.
This intricate appliqué outfit is red-carpet worthy...
...as is this sexy split skirt.
This whimsical two-piece wedding dress is a boho dream...
...as is this neckline that isn't afraid to take the plunge.
This short dress is stunning and a little bit different.
This gown is fit for a secret garden ceremony.
There are no words for this netted, backless number...
...and this sleek satin gown is sophisticated AF.
This full, flowing skirt looks like something straight out of a fairytale...
...and this beautiful lace bandeau gown is sure to turn heads as you walk down the aisle.