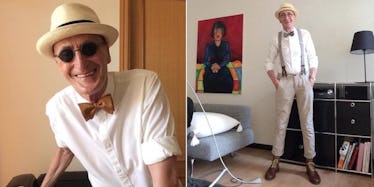 This Grandfather Slays The Hipster Fashion World With His Iconic Looks (Photos)
At what age does one give up on fashion and start dressing purely for comfort? 50? 80? 22?
For Günther Krabbenhöft, the answer is never.
The elderly German man — who is between 68 and 104 years old, by the Internet's best estimates — recently made headlines after photos of him rocking the most hipster ensembles ever went viral.
Krabbenhöft, a grandfather, says he dresses not for comfort or style but, rather, to make himself happy.
It's a lesson we could all learn from. If you feel good, you'll look good. And boy, does he look good.
Check out the hippest maybe-centenarian below.
Günther Krabbenhöft, a Berlin resident, knows a thing or two about personal style.
His wardrobe has all the trappings of your typical hipster.
He wears the dorky-in-an-ironic-way glasses...
The bow tie...
The suspenders...
...and even the quintessential hipster accessory: headphones.
Krabbenhöft became something of a celebrity for his impeccable fashion sense.
But, he doesn't quite get what all of the hype is about.
Of his style, he reportedly said, "I find that I dress pretty normal."
He added, "I want to look at myself with joy. It's also always a reflection of my inner self."
Wanted or not, all of the attention is totally warranted. He's undeniably cool.
Krabbenhöft may be older than your average style star, but make no mistake...
...this grandpa is young at heart.
Check out more of his style on his Facebook page.
Citations: 104-Year-Young Grandpa Has More Style Than You (And Less Years Than Internet Says) (Bored Panda)