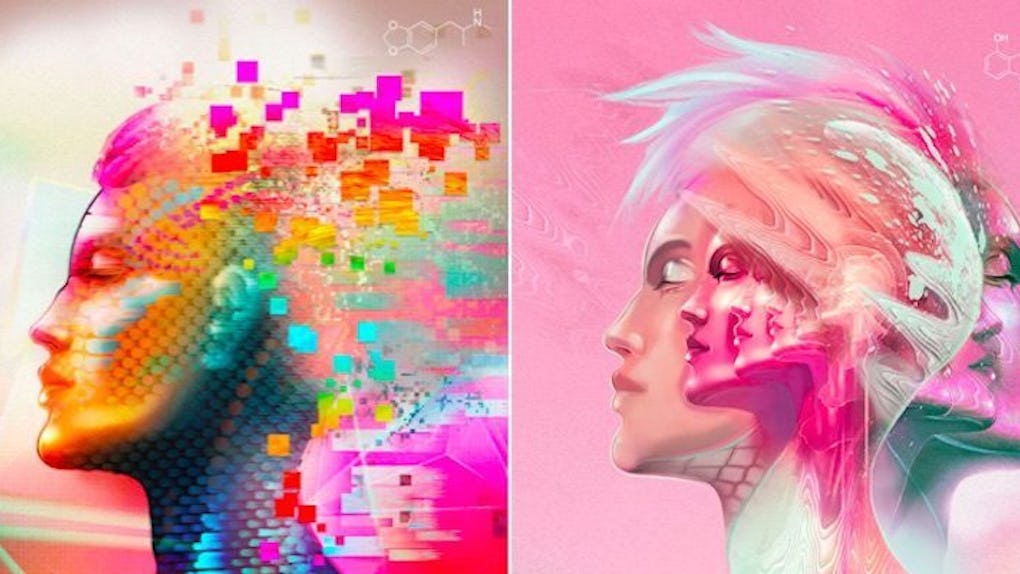 Brian Pollett
Artist Creates Psychedelic Illustrations While On 20 Different Drugs
At some point, I think we've all wondered how drugs would change our perception of the world around us.
For his latest project, Brian Pollett, who also goes by the name Pixel-Pusha, set out to paint a picture of exactly what it's like to be high on all sorts of substances.
Literally.
That's right. This free-spirited, San Francisco-based artist took a variety of different drugs for 20 days straight in order to create a thought-provoking visual series that captures the essence of each altered state of mind.
From MDMA and cocaine to amphetamine and good old THC, it's quite astonishing to see the different effects each drug has on his under-the-influence illustrations.
Apparently, the purpose behind Pollett's psychedelic project was to "create opportunities to educate, whether related to psychedelics or art."
When asked about this controversial form of self-expression, Pollett told A+,
Imagine the past, future and linear time are gone. You can just focus on your existence in the present. The idea of tomorrow is laughable. I can create art without concern of outsider judgment, without over analyzing my process and intuitively enjoy creating the most honest work.
Take a look at the pictures below to see Pollett's amazing drug-induced art.
Butylone
GHB
Codeine
THC
Alcohol
Nitrous
Cocaine
Psilocybin
4-HO-MiPT
Poppers
DMT
Ether
25I
MXE
MDMA
Amphetamine
Mescaline
Ketamine
LSD
Love