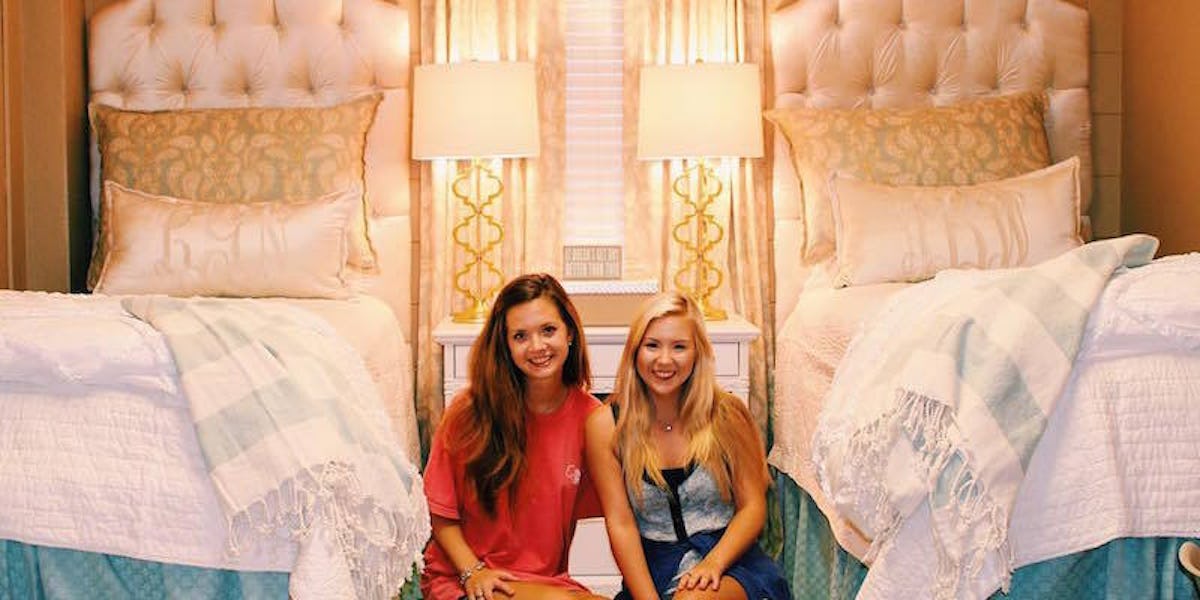 Two Girls Transformed Their College Dorm Into A Palace, And Twitter Lost It
Instagram
Leaving your parents house and going off to college is pretty exciting.
However, if you've ever had the experience of living on campus you know that dorm rooms aren't exactly the nicest of accommodations.
Yep, in addition to being small AF, most dorms tend to be pretty bare bones, supplying you with only a simple (and usually pretty ugly) desk, twin bed, and micro fridge.
When it comes to the typical dorm room decorations, you'll find that most students liven up their space with things like posters, picture boards and string lights.
However, Lindy Goodson and Abby Bozeman decided to deck their dorm room in a decor that is anything but ordinary.
That's right. When these two incoming freshmen at The University of Mississippi decided to be roommates, they immediately made a plan to take their shared space to the next level by decorating their dorm like a luxury hotel room.
From the upholstered headboards and furry white rug to the matching bedding, satin throw pillows, and adorable animal portraits, it's not hard to see that these girls have a serious eye for design.
Apparently, Goodson and Bozeman met on social media in October and started designing their dazzling dorm room in December.
While this room may look like it's oozing in opulence, you'll be surprised to find that their creative decor didn't break the bank. Thanks to some creative DIY ideas and some serous deal hunting, these two were actually able to put the entire space together on a college budget.
According to Goodson,
Abby found the dresser at an antique shop and had it repainted and added some crystal knobs (from Home Depot!). The curtain on the dresser is a hand towel my mom found at TJ Maxx and made into a little cafe curtain (it covers paper plates & such). I also found the lamps at Hobby Lobby on clearance and the stools from Home Goods (which I hot glued some velvet ribbon on).
As you can imagine the internet basically lost its damn mind after these two posted pictures of their bougie dorm on social media, and Goodson told Cosmopolitan,
Most of the dorms at Ole Miss are matching and decorated fabulously, so we have been so surprised to see the amount of attention we've gotten over ours!
Now, thanks to these ladies, lots of Twitter users are buzzing about the mind-blowing dorm rooms at Ole Miss.
Lindy Goodson and Abby Bozeman's decided to spruce up their dorm room at The University of Mississippi by turning it into a luxurious hotel-inspired space.
This dorm room at @OleMiss is insane! How will you decorate yours? https://t.co/abVgjRgGF5 pic.twitter.com/NHHJkTizoi — CampusSherpa (@CampusSherpa) August 18, 2016
It's not hard to see that these freshmen definitely deserve an A+ for their interior design efforts.
this is so dope! https://t.co/XuU53OpFtu — Meelah (@meeeeelah) August 16, 2016
Apparently, these lovely ladies aren't the only ones at Ole Miss with some serious decorating skills.
Hey @BuzzFeed my dorm room at Ole Miss was pretty fab....so where's the article about my room? pic.twitter.com/3RGPPiHp4n — Grace Bacon (@grace_bacon) August 17, 2016
It turns out that a lot of students take their dorm decor very seriously at this school...
Buzzfeed did an article on an Ole Miss dorm room...But I think they missed ours?? (Miss it and miss u @Anna_LWarren) pic.twitter.com/fBcHXo2tNG — Julia Lee Ashley (@itsjulialee) August 16, 2016
...and the Twitterverse is taking notice.
why does every ole miss dorm room look straight out of a pb teen catalog — melluminati (@melissajadeee) August 17, 2016
Yep, Ole Miss definitely means business when it comes to extravagant living spaces.
I would buy an entire coffee table book of Ole Miss dorm room photos — Kate Spencer (@katespencer) August 17, 2016
But really, though...
My hotel looks like an Ole Miss dorm room. pic.twitter.com/giN8FiCvlQ — Old Try (@TheOldTry) August 18, 2016
Is this even real life?
Ole Miss Dorm : Black Gold Tiffany Pink Dorm ... - #home #homedecor #decor #interiordesign https://t.co/N91kalW5H6 pic.twitter.com/BEqCbeH3ky — Interior Homes Today (@InteriorHomeTod) August 17, 2016
I hate to admit it, but this dorm room might actually be nicer than my apartment.
#Olemiss #olemissdorm #olemissmovein #hottytoddy #dorm #dormroom #dormdecor pic.twitter.com/xY3gRnXC09 — K d Inman (@WaylonandKim) August 16, 2016
Citations: This Dorm Room Has Gone Viral For Being Insanely Extravagant (Cosmopolitan)