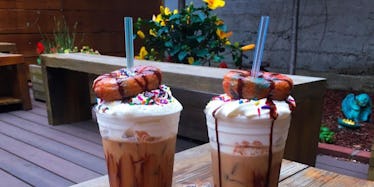 People Can't Stop Putting Doughnuts In Their Coffee, And It Looks Insanely Delish
Instagram
It's time to celebrate, guys. Doughnuts and iced coffee made a baby, and that baby is called the "Donutccino."
The innovators behind this sugary, caffeinated match made in heaven hail from Gossip Coffee, a coffee shop in Astoria, New York. With an in-house doughnut chef and oodles of cold brew coffee, the solution was simple: Put all that sh*t together with whipped cream and sprinkles on top.
And now that the Donutccino craze has caught on, people cannot stop putting doughnuts on their coffee. Because how could your idea of iced coffee ever be the same again? As every seasoned dessert lover knows, once you go doughnut, there's no going back.
Doughnuts AND rainbow sprinkles?!
Rainbow doughnuts?!?! Oh no they didn't!
Triple doughnut Donutccino. Oh yes they DID.
For a mere $6.50, you can top your coffee with as many doughnuts as you want -- or as many as you can fit on your straw. And if you're not a coffee person, you can get a pint full of chocolate or strawberry milk to prop up your doughnuts.
Coincidentally, this is the perfect excuse to kiss your bikini bod goodbye, because Donutccinos are so much better than lying around on hot sand.
Citations: If You're Not Putting Doughnuts in Your Coffee, You're Drinking It Wrong (Cosmopolitan)