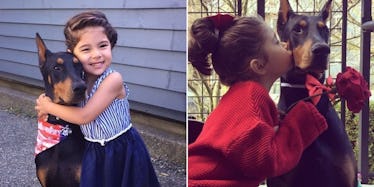 This 3-Year-Old Girl And Her Doberman Are All Of Your Friendship Goals (Photos)
I spent most of my childhood with a puppy partner in crime by my side. So, I know firsthand there's no friendship quite like the one between a kid and his or her barking BFF.
Siena, 3, and her 2-year-old Doberman, Buddha, are one adorable pair who know a thing or two about this special bond.
Lately, people have been going insane over this delightful duo thanks to their charming Instagram account, Cutie and The Beast.
The account features a variety of photos that showcase Siena and Buddha's awesome adventures and capture precious moments simply too cute for words.
Siena's mother, Tara Prucha, said,
Dobermans are also known as 'Velcro dogs.' They just want to be with their one human. And he has obviously chosen my daughter...We're really happy with the attention Buddha is getting. People are seeing how sweet and mellow they can be.
Take a look at the pictures below to see this little girl and her puppy pal.
This is 3-year-old Siena...
...and her beloved canine companion, Buddha.
Buddha came into Siena's life after her Chihuahua died in an accident...
...and these two have been inseparable ever since.
Siena and Buddha gained a lot of attention on social media lately...
...and their Instagram account, Cutie and The Beast, already has over 100,000 followers.
It's not hard to see why people love this precious pair.
These two are constantly posing in photos that really will tug at your heartstrings.
Whether they are laughing together...
Learning how to skateboard...
Taking a stroll through the neighborhood...
Working on a few new tricks...
Playing some board games...
Or taking the cutest nap of all time together...
...all their photos prove these two will be best friends forever.
Citations: Cutie & The Beast: Girl And Doberman Do Everything Together From Sleeping To Bathing (Bored Panda)