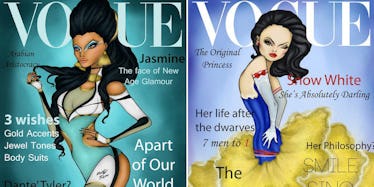 This Is What Disney Princesses Would Look Like As Vogue Cover Models (Photos)
Dante Tyler Brown
At this point, Disney characters are definitely not immune to finding themselves in peculiar scenarios.
That's exactly why it was no surprise to us when an unnamed artist recreated his or her favorite Disney characters to appear in "Fifty Shades of Grey"-like situations.
This time, however, illustrator and artist Dante Tyler Brown decided to transform a few of his Disney favorites into fierce Vogue cover girls.
The results? Well, they're exactly what you'd expect if Disney and Vogue would ever collaborate for a few special edition magazines!
The series, which was posted on Brown's DeviantArt page, casts a much more fashionable light on characters like Cinderella, Ariel and Snow White.
Check them out below for a closer look. What situations could your favorite Disney characters end up in next?!
"Alice in Wonderland"
"The Little Mermaid"
"Cinderella"
"The Hunchback Of Notre Dame"
"Aladdin"
"Atlantis: The Lost Empire"
"Pocahontas"
"Snow White and the Seven Dwarfs"
"The Princess and the Frog"
"Sleeping Beauty"
Citations: Disney Cover Stars (Stylist)