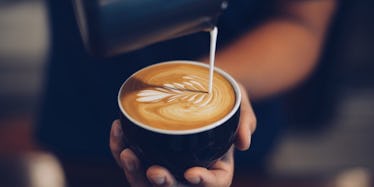 Dick Pic Latte Art Is A Thing, And Food Porn Has Never Been More Accurate
Shutterstock
There's no shortage of impressive latte art pictures on social media.
Thanks to some of the talented baristas out there, we've seen everything from food porn photos that show off mugs of java topped off with the typical hearts to foamy flower petals and gorgeous swirls of steamed milk.
However, if you're looking for some foam that's extra steamy, you're in luck.
We just came across an Instagram account that likes to take the nontraditional route by putting a variety of artful dicks in its drinks.
Before you cringe at the thought of a dude sticking his dick in a scorching hot cup of coffee, don't worry. I'm not referring to actual dicks.
The caffeinated cocks I'm referring to happen to be in the form of latte art.
That's right. Lattes featuring foamy dick pics are actually a real thing and, as you can imagine, it's even better than receiving yet another unsolicited penis picture from that random Tinder dude you regrettably gave your number to.
I mean, let's be real. How can you not love a little morning wood in your coffee?
The explicit Instagram account, fittingly named "Dick Latte," showcases a collection of coffee cups that have every penis design imaginable. And I have to say, the craftsmanship of these intricate NSFW sips are actually quite impressive.
According to the Instagram account,
The day doesn't start till I make myself laugh.
And trust me, starting your morning off with a cup of Joe's manhood will definitely ensure you have a spectacular day.
Take a look at the pictures below to see this extra steamy latte art:
If you've been searching for some food porn that will put a smile on your face...
...look no further.
We just came across an Instagram account that combines two of the greatest guilty pleasures life has to offer...
...coffee and dick pics.
That's right. There's an Instagram account called "Dick Latte" that features a variety of foamy dick designs that will give you all the feels.
It's not hard to see that this barista has a delightfully dirty mind...
And whips up extra steamy cups of joe that contain everything from artful erect penises...
And swirling caffeinated cocks...
To delicate dotted dickscapes...
Foamy flaccid penises that are flawless AF...
...and basically every other dick design you can dream of.
This anonymous Instagrammer told  Buzzfeed, "I bought an espresso machine to save money on coffee and began teaching myself how to make lattes by watching YouTube videos..."
"I was trying to pour a heart, but at the last second, a perfectly shaped penis plopped out onto the cup. I laughed and sent a photo to my friend, and we giggled. I promised to get it right the next day, but then it just kept happening..."
"Finally, I just took the extra milk foam and poured some balls, added a few details with the tip of my thermometer, and called it a dick latte."
Since then, this mysterious barista has gotten pretty creative with these eye-catching bulges...
And, don't worry, if you're not into giant dicks floating around in your latte foam...
...you'll be glad to know the account also switches it up every now and then by showing off some latte lady bits.
Social media sure is a glorious thing, isn't it?
Citations: This Perfect Instagram Account Combines Dicks And Latte Art (Buzzfeed)