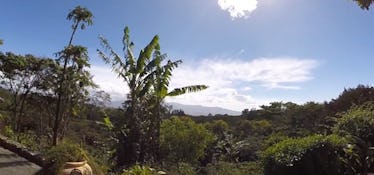 Why You Should Stay On A Coffee Plantation In Costa Rica
If you feel like coffee is the greatest invention since sliced bread, look no further than the harmonious, beautiful country that is Costa Rica.
Costa Rica is a tropical oasis of peace and prosperity that is home to some of the finest tasting coffee on earth.
And, in this blissful little country, there is a small, boutique hotel nestled in the central valley highlands.
Its owners are artists who moved from the United States in order to build the perfect vacation getaway for their friends and family.
Eventually, the plantation took on a life of its own, and now, it offers one of the most incredible hotel experiences I've ever had.
When I arrived at La Finca Rosa Blanca, I only knew that I would be staying at a coffee plantation that offered tours of their coffee-making process.
I had always been interested in how coffee was made, but had no idea what took place before the delicious pick-me-up refreshment hit my mug every morning.
The planation's gates swing open and hotel staff immediately takes your luggage off your hands and into a golf cart.
Suddenly, you're no longer a traveler through the country; you are a guest of the plantation — one of the largest in the area — and a member of the Finca Rosa family.
You're escorted to your hotel room, which has unique paintings, sculptures and decorative art pieces created by the owners themselves. Each work of art is unique and adds to the vibrant, colorful aesthetic of the hotel.
I'm not sure if I've ever had more breathtaking views while enjoying dinner than I did while staying at this luxurious and environmentally sustainable resort.
The volcanoes stretch out far in the distance, while San Jose's city skyline glistens in the night.
Flower petals that fell from hanging gardens were in the pool and sauna water as I spent the night drinking tequila and resting off the jet lag that accrued during my flight from New York.
In the morning, I took a tour of the plantation and discovered exactly how a cup of coffee is made. It's actually a lot more complex than you might think.
Farmers grow the coffee beans on the sides of their plantation's mountains and use organic alternatives to pesticides, like banana trees, to prevent run off and pollution to occur during rainstorms.
The coffee beans go through a drying process, where they are then cracked open and pooled together before being packaged in smaller groups, based on their quality and flavor.
For me, coffee is just one of those things without which I simply cannot live. And, I'm not even a coffee-guru; although I live in Brooklyn, I refuse to pay more than $4 for a cup of joe, and I couldn't really care less about what region of the world my coffee comes from.
If it's 8 am, I'm already 10 minutes late to work and I'm just trying to wake up from the sleepwalk in which I'm currently immersed, I'm trying to grab whatever cup I can find.
However, quality is never a factor in Costa Rica. In fact, even at the smallest Mom and Pop corner stores, you will find some of the best tasting cups of coffee your lips have ever met. That is no different at Finca Rosa Blanca.
At this plantation, the coffee you drink with your breakfast, lunch and dinner, is all produced just feet away from you.
Everyone you come in contact with — from the tour guides to the baristas at the coffee bar — all have had some form of interaction with the beans you're drinking.
And, it's quite possibly the most delicious coffee I've ever had in my life.
Even if you're not into coffee, the resort offers so much more for travelers. It's an incredible sightseeing stop just 15 minutes from the airport, and the experience is unbeatable.
So, if you get the chance while touring this fascinating country, stop in at the Finca Rosa Blanca. Your journey awaits.